Eiffel Tower demo banner urges voters to 'resist' Le Pen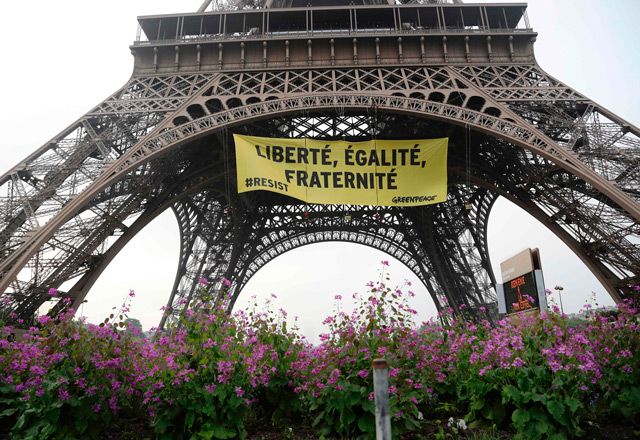 Greenpeace activists on Friday hung a giant banner saying "Liberty, Equality, Fraternity" and "#resist" from the Eiffel Tower in Paris in protest over the programme of far-right presidential candidate Marine Le Pen.
The protest, which comes two days before France votes in the run-off of an exceptionally divisive election, was intended as "a warning against Marine Le Pen's programme and the dangers it poses for NGOs and others," Greenpeace France head Jean-Francois Julliard told reporters.
"Liberty, equality, fraternity: it is vital to defend these values which are particularly threatened by the National Front," Julliard said, referring to Le Pen's party.
The yellow-and-black banner was hung from an arch connecting two legs of the iconic 324-metre (1,063-foot) Iron Lady, the symbol of Paris.
Julliard said Greenpeace was concerned about the "resurgence of nationalism" around the world, citing Turkey and Hungary as examples of countries where the right to protest had been curtailed.
Defending basic rights "is critical to continuing our environmental struggle," he added.
Le Pen faces centrist Emmanuel Macron in Sunday's presidential run-off. Polls give him a lead of 22-24 points.
The Paris police department said Friday's protest had shown up "flaws" in the security of the Eiffel Tower that needed to be addressed.
France is on high alert after a string of jihadist attacks in the past two years.
Six million people visit the Eiffel Tower each year, making it the world's most visited paying monument.
Follow Emirates 24|7 on Google News.