Emaar postpones Mira Oasis sales launch in Pakistan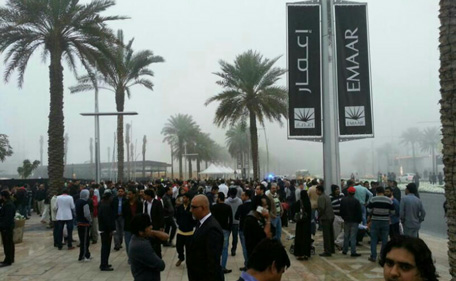 Emaar Properties has postponed the sales launch of Mira Oasis in Islamabad, Pakistan.

"The launch of Mira Oasis townhouses in Reem has been postponed and the new date will be announced shortly," the company said in a statement mailed to Emirates 24|7.

"The launch event had generated overwhelming investor response, with customers queuing up in advance. We worked with the concerned authorities to manage the investor rush, however, to further streamline the process, we decided to postpone the sale."

Heavy morning fog and zero visibility driver alerts notwithstanding, hundreds of investors descended at Emaar Properties' Downtown sales office early on Saturday to buy townhouses in Mira Oasis in the Reem master development.
But as the numbers swelled, Dubai's largest developer cancelled the first-come first-served approach and adopted an "online registration"system in order to manage the crowd.
"There was a huge rush at the Emaar sales office... there could be anywhere between 800 and 1,000 people. There was total confusion," said a real estate agent, who was present at the sales office.
"We were informed to register online at the event. We are being told that the sales will continue despite all the chaos," he added.
When Emirates 24|7 checked at Emaar's website at 9 am, it said: "Thank you for your interest in our Online Registration for Mira Oasis at Reem.
"We regret to inform you that the registration is now closed."
Emaar confirmed to this website that following overwhelming response to the launch of Mira Oasis townhouses, we introduced online registration, which was closed in less than one hour following strong customer interest.
Informed sources said that hundreds of investors were standing in queues in Islamabad and Emaar was planning to postpone the launch there as well.
Sources said that the launch was progressing in Abu Dhabi and Jeddah.
Emirates 24/7 reported on Friday that Emaar had adopted the a first-come, first-served basis for sales of Mira Oasis, a townhouse community within Reem neighborhood located close to Arabian Ranches.
Following the announcement, real estate agencies had send out emails to their clients, offering to queue up on their behalf at the developer's sales office.
"Kindly send your passport copies and we will queue up on your behalf," a real estate agency said in an email.
It added that though Emaar will disclose prices and other information on the launch date, but the down payment would be 15 per cent of the property value.
Sales were being held simultaneously across three other cities: Abu Dhabi, Jeddah and Islamabad.
Emirates 24|7 reported in September 2012 of long queues outside Emaar's sales office during the launch of The Address The BVLD in Downtown Dubai.
But following crowds witnessed during the launch of Mira townhouses in September 2013, Emaar switched to an online registration policy for new launches.
Mira Oasis comprises 411 three and four-bedroom townhouses.
The development is anchored by a central park with interactive fountains, walkways and a water feature.
Reem has several features such as a desert botanical park, sand surfing and camel riding trails, go karting track, dune buggies, rock climbing wall, cricket pitch, soccer field, and a skate park.
In 2013, property prices rose by over 20 per cent and this year they are expected to rise by another 10 to 15 per cent.

Follow Emirates 24|7 on Google News.