Emirates 'Accident': One firefighter dead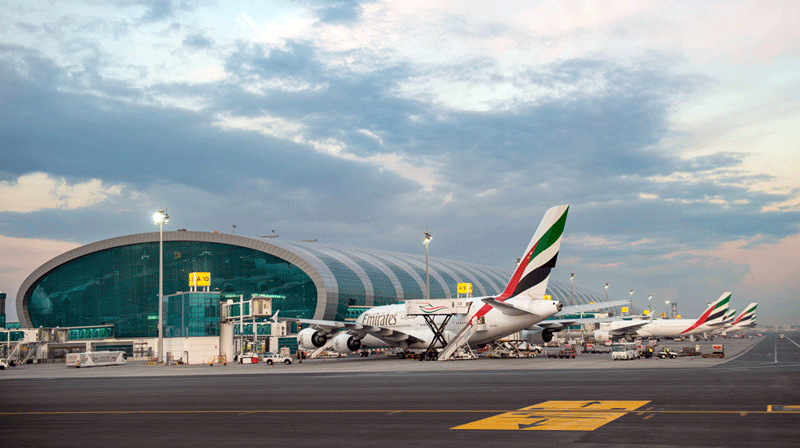 An Emirates jetliner, EK521, arriving from Thiruvananthapuram, India caught fire after slumping onto the runway in Dubai on Wednesday, killing one firefighter in an intense blaze and bringing the world's busiest international airport to a halt for several hours.
All 282 passengers and 18 crew were safely evacuated from the Boeing 777-300 after the accident.
The Airline confirmed the news in a statement, "Emirates can confirm that today, 3rd August 2016, flight EK521 travelling from Trivandrum International Airport in Thiruvananthapuram, India, to Dubai has been involved in an accident at Dubai International Airport. There were 282 passengers and 18 crew on board.
"The Boeing 777 aircraft departed at 10.19am from Trivandrum International Airport and was scheduled to land at 12.50pm at Dubai International Airport."
"We are in the process of opening our customer assistance line and will share these details soon but at this stage we have no further information on what may have caused the accident. Our priority remains with the passengers and crew involved," it said.
Flights at Dubai International resumed at 6:30 p.m (1430 GMT) after all arrivals and departures were suspended for over five hours, authorities said.
It is the first time an aircraft operated by Emirates has been damaged beyond repair since the carrier was founded in the 1980s.
Earlier Report:
"The General Civil Aviation Authority says a firefighter lost his life battling the blaze of Emirates plan while saving the lives of others," Dubai Media Office tweeted.
"We are however, very sad to announce that one of the firefighters lost his life while saving the lives of the others.
"On behalf of the General Civil Aviation Authority, I would like to offer my heartfelt condolences to the family of deceased.
"I salute his ultimate sacrifice that kept many from harm's way. Our thoughts and prayers are with his family", said Saif Mohamed Al Suwaidi, Director General of General Civil Aviation Authority.
Dubai Media Office had tweeted that emergency response teams at Dubai Airport have fully extinguished the fire on the Emirates plane.
Meanwhile, Dubai Airports spokesperson said in an e-mail statement: "Dubai Airports can confirm that Emirates airline flight EK521 arriving from Trivandrum was involved in an incident during landing at Dubai International at 1245pm. Emergency response teams have been activated and all passengers and crew have been safely evacuated. Operations at DXB have been affected with all departing flights delayed until further notice," it said.
"All passengers were evacuated safely and no injuries have been reported so far," Dubai Media Office (DMO) confirmed via social media.
"Concerned Authorities at Dubai International Airport are dealing with the incident at the moment to ensure safety of all," it further tweeted.
Follow Emirates 24|7 on Google News.