Emirates not subsidised, says Ahmed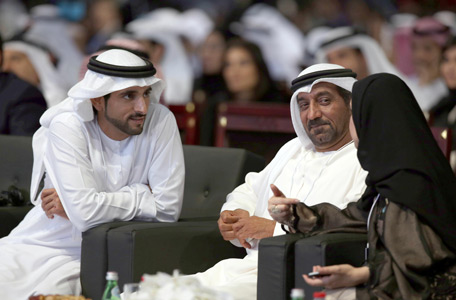 Sheikh Ahmed bin Saeed Al Maktoum, President of the Department of Civil Aviation and Chairman of The Emirates Group, is addressing the World Government Summit in Dubai.
Sheikh Ahmed said the airline is not subsidised and it's been profitable from day one.
Dubai Deputy Ruler Sheikh Maktoum bin Mohammed at the World Government Summit. (Wam)
Speaking about an open sky agreement with the US, he said: "The Americans insisted on open skies at that time. Maybe they thought we are too small. Today, we have proved we are an airline to reckon with."
He continued: "Government should play the role to ensure we are competitive and prices are right… We all fly the same aircraft, it's what extras we give."
He said: "We were the first airline to install videos in every seat. We have more than 2,200 channels on board; we have showers. What will come next on board? As an airline we always see what customer wants, but you have to pay for it. We can't give it for free. When the airline was started, we started open skies policy from the beginning. We started with a directive to make money, His Highness Sheikh Mohammed bin Rashid Al Maktoum said don't come for financial support and you can do what you want with airline."
Sheikh Ahmed said people believe 2016 will be bad year. "I say it will be a good year in relation to capacity. People said that when Qatar Airways came, when Etihad Airways came. Same would happen.
"UAE is not the same as 30 years ago. We have more people now. Today, Dubai has 80 million passengers and we aim for 120 million - it is the hub for the world."
Commenting on acquisitions, he said: "In the past we tried a joint venture with Sri Lanka at 25 per cent. We believe the business should be led by commercial people and not politicians."
He said the airline received 37 aircraft and there's no need to take any aircraft on lease.
Replying to a querry about tie-ups with airlines similar to Qantas deal, he said: "If we see an airline with similar intelligence, why not? If we join an alliance, we restrict our growth."
Commenting on the ultra long-haul route of Dubai to Panama City, he said: "When we plan a route, we don't do it for publicity. We have to make money and serve the hub. We pushed Panama City to a later day. New Zealand (Auckland) will be served from March 1. The duration of the flight will be 17 hours 15 minutes."
When quizzed where is the battle in future, Ahmed said: "It's about service and what the airline can do. We need stakeholders to work with us to serve governments in best way. Part of our success is because we have a government that has pushed everybody to make it happen. We fight as one team, the government support doesn't mean giving cash - it's giving service."
Dubai airport is used by 120 airlines and all get the same service, Ahmed said.
When asked that as head of airport, does he welcome more slots at the cost of Emirates? Ahmed replies, "Slots are not decided by us. You go through a system. If we manage our space efficiently, we can save our operational cost by 12 per cent. The government is deciding and redesigning UAE airspace. On the military side, we are very helpful. It's not just us, we have to look at neighbours."
Sheikh Ahmed said they would help neighbours with their air traffic system problems.
He said fuel was 46 per cent of the total cost but it's just 20 per cent due to decline in crude prices.
"Most important role of a chairman should be a succession plan: His Highness Sheikh Mohammed always told us to line up people to take over the role. We teach so much over the years. We have many young Emiratis in the company since 25 years. They are doing so well. They can step up. When Tim steps down, we would be proud to see an Emirati take on a stronger role," he added.
Emirates chief said Internet access on 17-hour flight is for just a dollar but the airline needs a wider bandwidth to meet the demands of passengers.
Follow Emirates 24|7 on Google News.