UAE SIM registration deadline today: Etisalat extends work hours, crowds build up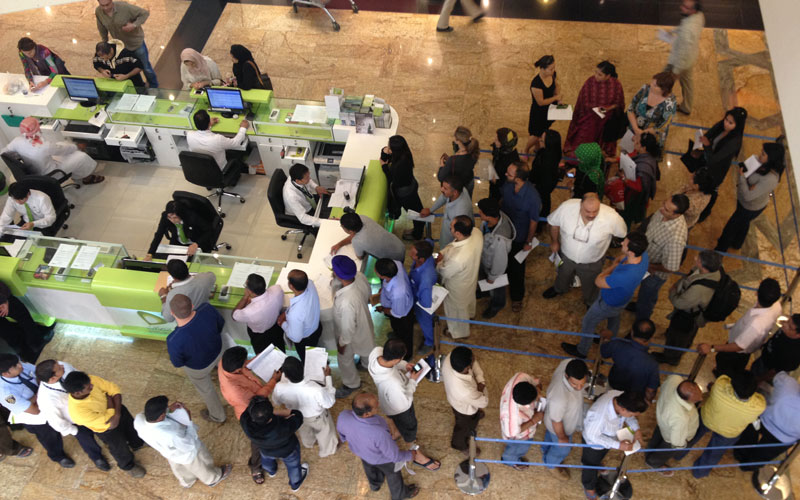 Etisalat, has extended the working hours across its business centers in the UAE to help customers meet the deadline of January 16 for registering their mobile SIM cards under the 'My Number, My Identity' campaign.
Etisalat's business centers, kiosks and service centers in Dubai and Abu Dhabi will remain open until midnight from January 14-16 2013, reported WAM.
In the other emirates, working hours have been extended either until 8pm, 10pm and 12am, the agency added.
SMS alert
Long queues of applicants were seen building at etisalat and du counters in various malls across Dubai as the deadline for the first phase of the SIM card registration closes in.
Some of the members of the staff were seen patiently handing out application forms to be filled up while people stood in line.
"The queues start getting longer and longer throughout the day. By evening, you can see more than 100 people waiting in line," said one etisalat staff at their Mall of the Emirates kiosk in Dubai.
"There are many who come despite not having received the SMS," said a staff member manning a counter at du's MoE outlet.
"They believe that they might have missed reading the SMS, or are just not sure. It is better to call up the customer service and make sure your number needs to be reregistered before queuing up," he suggested.
Queues were seen in most malls including Deira and Mirdif City Centre.
Du mobile subscribers, who have been sent reminders to re-register by January 16 and fail to do so, will have their outgoing barred after January 17, but will have a grace period of three months to complete the process, a senior company executive earlier told this website.
"Majority of the two million subscribers in the first two batches that were sent reminders have re-registered. Those who fail will not be able to make outgoing calls. The number will be cancelled if they fail to complete the process during the three-month grace period," said Yasser Al Yousuf, Director - Premium Personal Market, du.
A million du subscribers have voluntarily re-registered under Telecommunications Regulatory Authority's (TRA) 'My Number, My Identity' campaign.
An etisalat call centre employee told this website earlier: "If you have received an SMS to re-register your number, then you must to complete the process before January 16. If you fail to do so, then your number will be deactivated."
In October 2012, the UAE's TRA extended the deadline for the re-registration of mobile subscribers under the 'My Number, My Identity' campaign after the two UAE telecoms operators were unable to provide smooth mechanisms to facilitate, accelerate and stimulate subscribers to update their data.
The authority had then instructed the operators to speed up the launch of the online registration services to accelerate the process and ease the load on the commercial outlets.
Mandated by the UAE Telecom Regulatory Authority in July 2012, registration of SIM cards will protect subscribers from misuse or confidentiality infringement. A wide range of services that enhance the overall mobile experience is also being offered by etisalat to registered SIM cards, reported WAM.
The easy and quick registration policy requires mobile subscribers to produce valid and original identification documents at any etisalat kiosk across the country along with a copy of the ID proof.
Documents include Emirates ID or passport for UAE nationals, passport or GCC National ID for GCC nationals, and the Emirates ID or passport along with valid residence visa for all other nationalities. Business and government customers are required to present a valid establishment card issued by the UAE Ministry of Interior.
Follow Emirates 24|7 on Google News.