10 glorious years that see UAE at heart of global trade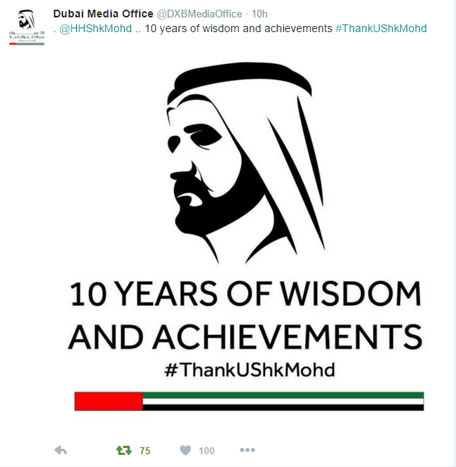 The city of Dubai has undergone tremendous growth over the past 10 years.

In the past decade, under the wise leadership of His Highness Sheikh Mohammed bin Rashid Al Maktoum, Vice-President and Prime Minister of the UAE and Ruler of Dubai, the emirate has established itself firmly as the global hub in trade and logistics.

Several local and international reports indicate that the steady economic growth of Dubai and the UAE over the past years is not attributed to energy production and its export, but due to a successful strategy of diversifying sources of income, with trade playing a critical role in this.

This particular economic sector has been one of the city's biggest pillar of strength. As a result, the emirate today enjoys the status of being a significant player in international trading and transport logistics.

"Dubai has been exemplary in surmounting the impact of the trade and economic hardships the world is currently facing, thanks to the wisdom of Vice President and Prime Minister of the UAE and Ruler of Dubai His Highness Sheikh Mohammed bin Rashid Al Maktoum, and His Highness's vision of diversifying the economic structure of Dubai to withstand and avoid being affected by sharp fluctuations witnessed across many key economic sectors globally," said Sultan Ahmed bin Sulayem, Chairman of Ports, Customs and Free Zone Corporation (PCFC), and Chairman of DP World.

"The foreign trade sector has enhanced Dubai's capacity to build sustainable economic growth. Alongside other economic sectors, particularly tourism, it has positioned Dubai as a leading global and regional trading and business hotspot, in spite of the general slowdown in the world economy," he said.

Going forward, the much awaited Expo 2020 is expected to give a significant boost to trade in the emirate. According to Mahmoud Al Bastaki, CEO of Dubai Trade, the city's foreign trade is expected to touch Dh4 trillion by hosting this event.

"While all business sectors will be growing drastically from now until the hosting of Expo 2020, trade will get the highest leap among all businesses in the UAE," he said.

Recent figures show that Dubai's non-oil foreign trade was worth Dh966 billion during the period January to September 2015 and this was despite the adverse impact of the recent downturn in oil and precious metals prices.

Imports had the biggest share of the overall trade with a value of Dh597 billion while exports and re-exports totalled Dh100 billion and Dh269 billion respectively.

From January to September 2015, direct trade contributed Dh603 billion of Dubai's total foreign trade value; while free zones contributed Dh340 billion and customs warehouses Dh23 billion.

Dubai has seen a high-value foreign trade due to the substantial upsurge in the total volume of goods imported, exported or re-exported via the emirate.

The quantity of commodities traded went up 5 per cent from 60.6 million tonnes in the first nine months of 2014 to 63.7 million tonnes in the same period in 2015 – a growth of 3.1 million tonnes.

Likewise, during the last four years from 2012 to 2015, the volume of goods in Dubai foreign trade grew by 23 per cent with an overall increase of 11.86 million tonnes.

Such a rise in the volume of cargo traded through Dubai proves the emirate's successful expansion in terms of imports, exports and re-exports, attracting traders from all parts of the world and making inroads into new markets in five continents.

Undoubtedly, foreign trade has turned to be an engine of growth for Dubai's and the UAE's economy. The country enjoys a vast network of bilateral trade relations with dozens of countries around the globe. It also signed several MOUs, including the trade and exports, imports and re-exports.

The Government not only focuses on laying the groundwork with the best policies to boost trade, but also assists companies in promoting themselves to the world.

To further this cause and local businesses, Dubai Chamber of Commerce & Industry, in line with the set policies carries out Trade Mission programme assisting Dubai-based companies to grow internationally.

The Trade Mission programme is designed to match objectives with business opportunities existing in the targeted market via the introduction to key industry decision-makers and well-placed government officials.

Since the beginning of January 2012 until the end or 2015, many trade missions have been successfully held at Las Vegas, Southern Gujarat, Ethiopia, Hamburg, Azerbaijan, Kazakhstan and Uzbekistan, and Milano among a few more.

Among Dubai's top trading partners, China comes on top with a total bilateral trade value of Dh132 billion in the first nine months of 2015, which represents a growth of 5.1 per cent compared to the same period of 2014.

Since formal diplomatic relations between the UAE and China were established in 1984, bilateral trade between the two countries has grown from Dh231.21 million ($63 million) in 1984 to Dh201.11 billion ($54.8 billion) today, and is expected to reach Dh220.2 billion ($60 billion) by the end of 2015.

India followed as the second trading partner of Dubai at Dh74 billion, while the US came third with Dh60 billion worth of trade. GCC peer Saudi Arabia was the fourth global and top Arab trading partner of Dubai at Dh45 billion, with an increase of 11.62 per cent from last year.

There was also a strong growth in Dubai's trade with several other Asian countries, namely Vietnam the 8th largest trading partner of Dubai with which bilateral trade grew 16.83 per cent to reach Dh30 billion. Trade with Hong Kong climbed by 17.24 per cent to Dh26 billion, which places China's autonomous province 10th on the list of Dubai's major trading partners.

Follow Emirates 24|7 on Google News.