10 luxury buses on Dubai-Sharjah route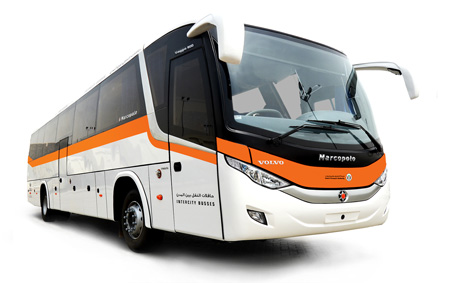 Ten new luxury buses will be added to the intercity bus fleet of the Sharjah Roads and Transport Authority (SRTA) over the next few days.

The buses are part of an expansion of the luxury fleet carried out this year, now counting 39 coaches. The intercity bus fleet counts a total of 69 coaches.

The new bus is equipped with mobile phone charging stations, spacious seating, extra luggage space and high-quality air-conditioning, and has the capacity to transport 45 passengers especially on long-distance routes.

The fleet consists of 18 Volvo coaches and 21 others with special standards that go with the latest international benchmarks, said Abdul Abdulaziz Al Jarwan, Director of Transport Affairs, SRTA.

The expansion comes in response to the growing demand on intercity bus routes connecting Sharjah to all other emirates through 14 bus routes.

Intercity bus routes operated from Sharjah lifted 4.5 million passengers in the first six months of 2015. In 2013, the overall number of passengers was 5m, indicating a steady increase.

On holidays, passenger volumes can hit 90,000 a day, said Khalid Al Khayyal, Director of the Transportation Department at the SRTA.

In total, eight bus routes run between Sharjah and Dubai, while one route each connects to Abu Dhabi, Al Ain, Ajman, Umm Al Quwain, Ras Al Khaimah and Fujairah, with the latter connecting to Al Dhaid and Khor Fakkan en route.

The Dubai-Sharjah bus route is by far the most popular intercity bus route, with the busiest route being the Sharjah-Qusais-Rashidiya route. Other routes connect to Al Quo-Jebel Ali, Deira, Abu Hail Metro station, Union Metro station, Sabkha, Satwa-Karama, and Ghubaiba.

Buses operate with a headway ranging between 10 and 45 minutes, depending on the route. However, the rise in demand has led to several initiatives aiming to slash waiting time and route availability.

Private companies will be contracted for the hire of additional buses at peak times such as the end of the week and the holidays, commented Yusuf Hammadi, director of Procurement Management Services at the SRTA.

Further, discussions have been going on between the SRTA and its counterpart in Dubai to increase the number of bus stops, said Said Mahmoud Mutawa, director of Operations and Transport Management of Intercity Transport.

In May this year five new passenger pick-up points were added on Routes 307 and A307, connecting Sharjah to Deira and Abu Hail, respectively.

Intercity buses depart from Al Jubail, Al Rolla and Sharjah International Airport stations and are priced according to distance, with ticket fees ranging from Dh5 to Dh30.

The luxury buses are priced according to the regular fee structure and no price increase will be implemented this year, added Al Khayyal.

Follow Emirates 24|7 on Google News.