17,000 new Abu Dhabi street names: How it works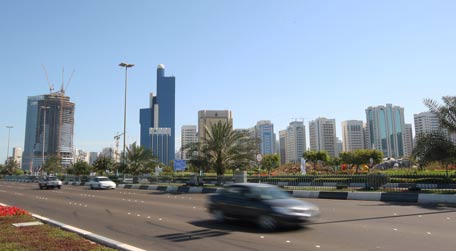 With the main streets of Abu Dhabi Island named after the Emirate's honoured visionary leaders and heroes, Abu Dhabi City Municipality, ADM, in coordination with the Department of Municipal Affairs, DMA, have begun mounting new street names for internal streets and placing number plates on buildings across the city.
The signs are being implemented according to standards developed and coordinated by the DMA, which draw on international best practices while adopting local culture and heritage.

Elaborating on the specifics of the implementation process, Eisa Almazrouie, Acting Executive Director of Infrastructure and Assets sector of ADM, said, "There has been satisfactory progress in the roll-out process so far.
"For example, in the areas of Bahia, Al Falah and Al Nahyan, 95 percent of the streets have already been named, with 110 new street signs and 1,618 new number plates on buildings.
"In addition, 720 new street signs have been installed across Abu Dhabi City, which include the main streets of Abu Dhabi Island and Al Bateen."
ADM is the first of the three Municipalities within the emirate of Abu Dhabi to have the project rolled-out.
Over the next year, ADM will be installing just under 17,000 new street name signs, and mounting 66,000 building number plates which all have a unique QR Code on it.
Upon scanning the QR Code, the general public can discover addressing details about the location, the meaning of the street name, locate nearest points of interest, be aware of local events in the area, and send the QR Code to their friends and family in order to locate them with ease.
This can also be used by emergency services, utilities and delivery personnel to help locate a place with pinpoint accuracy.
Unique just to the capital, road numbers will be added on the overhead street name signs fixed to traffic signals and gantries at main street intersections on Abu Dhabi Island.
This will further facilitate easy navigation throughout the island, for visitors and residents who are not familiar with the street names.
The odd route numbers on the overhead signs are similar to the previous numbering system, with Corniche Street in the North-West starting with route number 1 and Dhafeer Street in the South-East having route number 31.
In order to ease orientation and navigation further, the current even numbering will be adjusted, starting with route number 2 in Khalifa Al Mubarak Street in Al Bateen area, and progressing with sequential numbering to the North-East.
The improved signage is a vital contribution to the goals of Vision 2030, under which Abu Dhabi aims to solidify its status as one of the world's most advanced societies. By unifying the Abu Dhabi addressing system, the project empowers citizens, residents, tourists and service providers alike to find their location accurately and with ease.
Follow Emirates 24|7 on Google News.