19 car pile-up on Abu Dhabi-Al Ain road…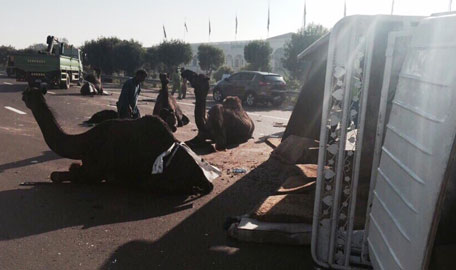 Early morning foggy weather resulted in yet another accident. This time it involved 19 cars on Abu Dhabi – Al Ain road.

One camel and three people were injured in the Saturday morning mishap, when the truck transporting nine camels overturned due to the collision. Two other camels sustained multiple fractures, according to Colonel Hamad Nasser Al Balushi, Head of Peripheral Regions Traffic Department, Abu Dhabi Police Traffic and Patrols Directorate.

Initial investigation show that the accident occurred due to thick fog that blanketed the area which reduced horizontal visibility.

Rescue team rushed to the site immediately and administered first-aid to the injured before transferring them to hospital.

The damaged vehicles were removed from the crash site, and the injured animals were provided with necessary treatment in coordination with the relevant entities, added Col Balushi.

The accident comes one day after a three-car pile-up accident in Zayed City in the Western Region, Abu Dhabi, which killed two people and injured seven due to low visibility.

Col Balushi reiterated the importance of exercising caution while driving in foggy conditions and urged motorists to leave sufficient safe distance between vehicles and refrain from overtaking other vehicles and respect traffic rules.

He also urged motorists to stop their vehicles off of the road, turn off their warning lights, and take all precautionary measures that will assure their safety while driving in foggy conditions.





Follow Emirates 24|7 on Google News.