2,400 calls, 250 crashes in just 5 hours on first day of Ramadan: Dubai Police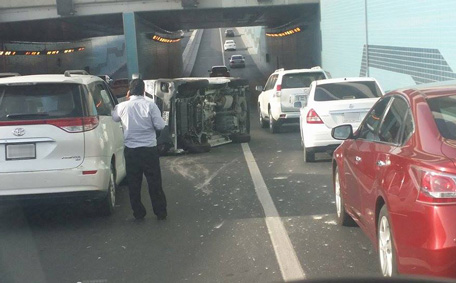 The Command & Control Centre of Dubai Police received 2,419 calls during the first day of the holy month of Ramadan.
"Yesterday [the first day of Ramadan on June 6], The Dubai Police Command & Control Centre received 2,419 emergency calls and reported 250 traffic accidents [two of which were serious] all between 2:30 pm until 7:30pm," said Lt. Colonel Khazraj Majed Al Khazraji, Director of the Command & Control Centre.
Al Khazraji urged motorists to buckle up, adhere to the speed limits, maintain a safe distance and drive defensively – especially during the holy month.
He pointed out that non-emergency calls were a waste time for the police teams, thereby urging public not to make unnecessary calls to 999.
Lt. Colonel Khazraj urged drivers and road users to stay away from the wrong practices especially when approaching an intersection. He urged pedestrians to watch out for the vehicles and cross the road from designated places only, for their own safety.
On Tuesday, a woman died in Ras Al Khaimah in an accident while crossing the road not marked for pedestrians.
He urged drivers also to have patience during this holy month of Ramadan.
Follow Emirates 24|7 on Google News.