2 Emiratis die test-driving souped up Toyota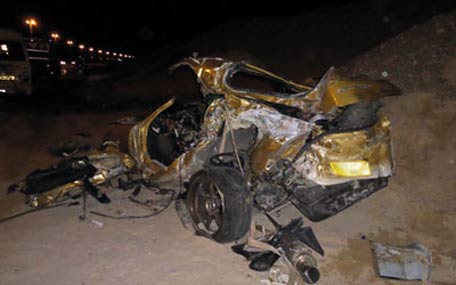 Two young Emiratis were killed in a car accident as a result of speeding and reckless driving, according to Colonel Saif Mohair Al Mazrouei, Acting Director, Dubai Traffic Police.
One of the deceased owned a garage that specialised in high-performance cars.
Colonel Al Mazroui explained that the two young men were riding in a Toyota, bearing Omani plates, and veered abruptly to collide with a bus parked on the side of the road.

The police patrol on the site of the accident found that the car had undergone major modifications.

He noted that the car was going so fast when the incident happened that the entire roof flew off.

Colonel Al Mazrouei said it was likely the deceased were out testing the car after having executed modifications to increase strength and speed.

The incident took place on Sunday, February 16.
On the same day, an Indian died in another road mishap.

The man was riding a motorcycle when he lost control and crashed into a lamp-post.
In yet another accident on Monday, February 17, another motorcycle rider, nationality not yet released by the Dubai Police, collided with a truck and was killed on the spot.
Follow Emirates 24|7 on Google News.