2 fires in Oud Metha, Dubai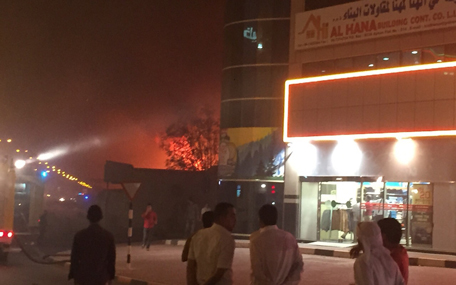 Dubai Civil Defence confirmed a fire broke out in Oud Metha, near Lamcy Plaza, at 11.36am on Saturday and was brought under control in 10 minutes.

According to them, the fire originated in the antifreeze units in a commercial area, and no one was injured in the blaze; however, the area and the corresponding two cafes, Meramar and Exit, remain closed for now.

Speaking to Emirates 24|7, Mujheed, one of the managing partners of Meramar Café stated: "I was at home when I received a call from my staff that a fire had broken out in the antifreeze unit behind our café, which spread from the neighbouring area.

"I am still waiting to hear from Dubai Police on the cause of the blaze, but we had nearly 100 catering chairs that were placed in the back and have been damaged in the fire."

The cause of fire is still under investigation.
A second fire also broke out in Oud Metha on Saturday morning.

The Dubai civil defence confirmed the fire was in a store selling residential a/c units.

It happened at 11am. The firefighters rushed to the scene and the fire was put out.
Ajman
A massive fire broke out in the central area in Ajman on Friday night.

Civil defence in Ajman confirmed that a fire had broken out near KM trading store in Ajman.

The official said there were no casualities, and the fire was in a "house".

"The blazing flames were seen near the KM trading store (opposite Lulu Centre)," informed an eyewitness.

The resident spotted the fire around 9pm on Karama street.

He informed that the roads to the area were blocked.

The civil defence had rushed to the scene, and the firefighters worked hard to put out the fire.
Follow Emirates 24|7 on Google News.