24-hour beach ban in Dubai: Residents, tourists urged not to venture out into the sea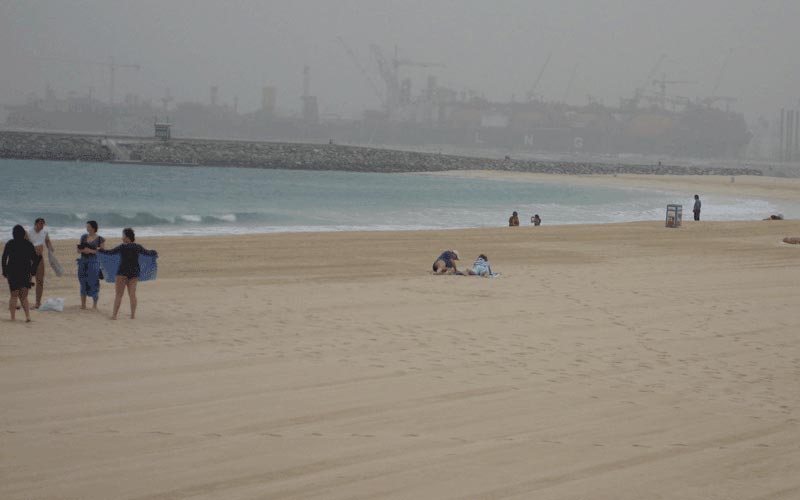 Most beaches in Dubai have been shut for the last few days following unfavourable weather conditions.

Residents and tourists have been urged not to venture out into the sea during the next 24 hours.

The Open Beach in Jumeirah 1 in Dubai has been closed since Friday. "The sea is rough and we are not letting anyone enter the sea," said one lifeguard.

"We are strictly monitoring the activities to ensure that no violations are taking place," he said.

The National Centre for Meteorology and Seismology renewed its warning and said, "The sea is currently very rough and we are reiterating to both residents and tourists not to venture into the sea."

However, beaches in the Northern Emirates, mainly in Fujairah, continue to stay open.

"The sea is very calm here. There are a lot of people currently enjoying a swim and some are even snorkeling," an official from Sandy Beach Hotel in Fujeirah said this afternoon.

Meanwhile, amidst growing dust, motorists have also been warned to drive carefully.

"Precaution must be taken on roads because of dust raised by strong winds," the NCMS alert said.

Meanwhile, daytime temperatures in the UAE continues to fall with strong winds sweeping over the emirates.

The maximum temperature has fallen to 21 degrees centigrade in coastal areas and 23 degrees inland. Minimum temperature in mountainous areas has dropped to 1 degree.

According to a NCMS forecast, strong northwesterly winds that continue to blow over most areas will sweep up dust and reduce temperatures.

Minimum temperatures in most areas remain around 5 degrees C.
ALSO READ:

Strong winds blow winter chill across UAE; Rain forecast in evening



Dubai Taxis' Salik: Only 100 vehicles charging
Follow Emirates 24|7 on Google News.