27th time lucky: Indian spends 4 years, Dh40,000 for car licence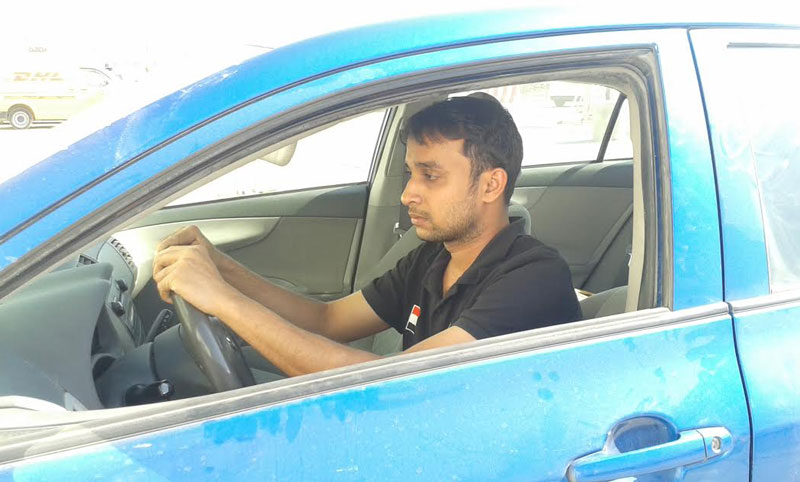 An Indian strived for four long years to earn a driving licence in the UAE. He now dreams of making a movie of his attempts.

After spending almost Dh40,000 on 27 attempts and postponing his wedding, Namsheed Muringolihas at last got his driving licence on February 18, 2014.

The 28-year-old new driver says he changed several instructors in two emirates (Ajman and Sharjah) and even missed attending a family funeral in the process.

"I came to the UAE about 10 years ago, after my music albums and cinema plans went awry. For six years I worked in Nizwa Cafeteria, Sharjah. And because of long work hours, I could not take up driving. Then, when I got a chance to be part of a new business in Ajman four years back, I decided to open a driving licence file. In fact, Ibrahim Haji, a family friend, persuaded me to take up driving, so I could change my job and become a delivery staff and earn better," says Muringolihas.

"I have changed at least seven driving instructors, taken four to five classes per day sometimes and even vouched offerings in the masjid back home. My relatives, too, began praying for my success. I used to earn Dh1,200 per month and spent a fortune on classes."

"I never gave up hope. After every failure, I somehow managed money for the next test. Initially, I used to pay Dh360 for getting the closest test date - within 12 days. Later I began paying only Dh180 for a test date after 22 days. Driving instructors would insist on my taking 25 classes before each test. I would spend Dh35 per class for half-an-hour class," he says.

"Initially I failed many times because I could not balance clutch and break together. Then I could not change lanes or take U-turns correctly. However, I guess the main reason was my tension. I even took tablets to control my tension during driving. I think my worries stem from a major accident I was involved in when I was once on my way back from Dubai after a shopping spree. The taxi in which I was travelling flipped over after a speeding vehicle rammed into it from behind. The taxi driver was seriously injured. I luckily escaped unhurt. But that day's memories haunt me till date. I guess that could be one of the reasons of my many failures in getting a driving licence."

Muringolihas recalls his throat going dry and hands trembling whenever he took the wheels for his tests.

"In fact, on February 18 - when I was attempting for the 27th time – my fiancee's father had passed away in a road accident in India. So I was not in a good frame of mind to give the test. But I passed.

"I got engaged to Shabeena in August 2013. The marriage was postponed because I wanted to get the driving licence before tying the knot. Now, I will go home and get married," he says and adds that he will look for a better job after he returns.

Muringolihas burnt a suitcase full of driving documents because "I did not wish to keep the bad memoirs of my repeated failures".

"Earlier when I failed in my film and music ventures, my friends and colleagues made fun of me. When my attempts at earning a driving licence also took long, I was once again the recipient of their bad humour. But, now everybody is congratulating me. May be I will make a movie about my driving licence attempts. But before that I need to fulfill all the vows made and give some money to charity as well," says an elated Muringolihas - a native of Kasargode, Kerala.


Follow Emirates 24|7 on Google News.