3-metre python in Dubai luggage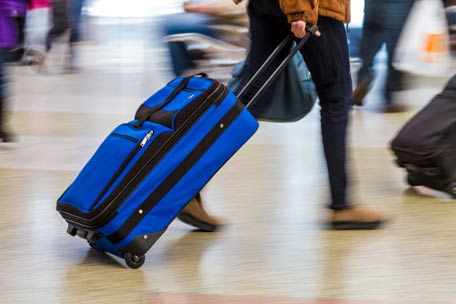 Remember, when in doubt, declare! That's the wise action to take especially when landing in any foreign country – and avoiding posing a threat later on.

"I remember a passenger whose luggage contained something of an organic nature," said Hassan Ibrahim, Senior Inspection Officer at Dubai Airport.

Speaking to 'Emirates 24|7', Hassan explained how he and his vigilant team from Dubai Customs performed a routine check on one passenger coming in from Africa, and made a startling discovery involving one of his bags.

He said: "It appeared to be something long, containing bones, and in the shape of a snake."

Hassan continued: "I was surprised and wondered if it was a mistake, but when we opened the bag we discovered that it was, indeed, a snake, but a dead one."

It was a large python, more than three metres long.

Hassan asked the arriving passenger why he was carrying a dead snake with him to Dubai.

The individual answered: "I will eat it. It is our traditional food in my country."

As intriguing as it sounds, Dubai Customs officers remain undeterred and continue their thorough check on the luggage.

That meant following the procedure, whereas in this case, the python had to be sent over to a regulatory body to test its skin and meat.

That's because the UAE has signed an agreement with the Convention on International Trade on Endangered Species of Wild Flora and Fauna (Cites) where the trade in endangered wildlife, plants and products made from them is regulated by an international treaty.

"Cites is a worldwide agreement, so if any animal is brought into the UAE that's not listed under Cites, it is subject to approval by another authority, the Ministry of Environment and Water," explained Ahmed bin Lahej, Director of Passengers Operation and Dubai Airport.

The agreement prohibits the exportation, transit, unloading, re-shipping, re-exporting or entry of any animal, plant or their parts or products without providing for proper arrangements and submitting the required health documents.

Bin Lahej added, "There is a health procedure to be imposed on these things because we have to ensure that no diseases will enter the country, either through the animals or through the plants or trees, it's very important, so whatever they have the Ministry is checking it to ensure they are not carrying any diseases and then submit their approval."

Meanwhile, it is common procedure for animal smugglers to have their products confiscated by Dubai Customs before forwarding them to Dubai Police for further investigations.

Hassan explained: "I have to do my job, I have to do my work, to make sure people don't have anything illegal in their possession, because I don't want them to cause any harm to my country, our society, the people and the residents.

But in the case of the traditional dead python-eater, was he forwarded to the Dubai Police as well?

"No, it was more to do with his culture, and it was a funny and strange case," said Hassan.
Follow Emirates 24|7 on Google News.