Rare Ferrari in Dubai Police pound for 6 years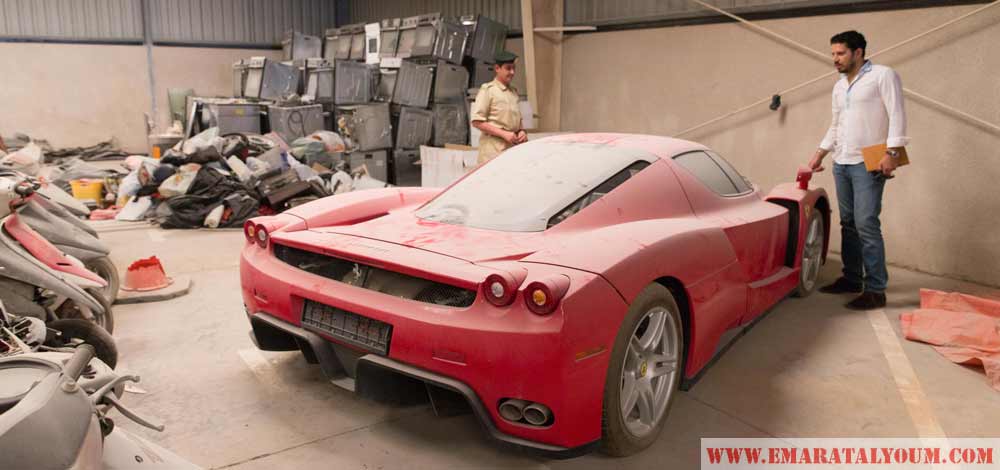 A rare Enzo Ferrari, one of just a few hundred expensive cars made by the Italian auto giant, has been slumbering at the police impounded cars compound for nearly six years.
The red luxurious vehicle, one of the most expensive cars in the world, appears to be covered with dust as it lies at the massive compound along with thousands of other cars.
The Arabic language daily Emarat Al Youm said the Enzo trades at nearly $3 million (Dh3.67 million) and that it is a limited edition vehicle made on demand.
"The car has been there for more than six years. Dubai Police have moved it to another store to protect it following a report by the paper," it said without mentioning its owner or why the Enzo has been impounded by the police.
The Enzo Ferrari is a 12-cylinder mid-engine supercar named after the company's founder, Enzo Ferrari.
It was designed by Ken Okuyama, a famous Japanese designer, and initially announced at the 2002 Paris Motor Show with a limited production run of 349.
The company sent invitations to existing customers, specifically, those who had previously bought the F40 and F50.
All 349 cars were sold before production even began. Later, after numerous requests, Ferrari decided to build 50 more Enzos, bringing the total to 399.
Fine for racing on highways
A total of 15,118 vehicles were impounded by Dubai Police in 2015, as compared to 10,200 vehicles in 2014, Emarat Al Youm reports.
The newspaper reported that Dubai Police seized several vehicles, including a Ferrari and Porsche, and a Suzuki Hayabusa motorbike, one of fastest in the world.
Major General Khamis Matar Al Mazina, Dubai Police Commander-in-Chief told Emarat Al Youm that the seizures were under Decree No. 29 of 2015, as regards the preservation of life and property.
He said the fine for racing on highways is now Dh100,000 for cars and Dh50,000 for motorbikes.
This is for races on paved roads and is aimed to deter reckless drivers.
He added that there is a significant reduction in racing on the roads, as compared with previous years, particularly during the winter season.
He also confirmed that Dubai Police traffic patrols are equipped with smart cameras and systems to read number plates of vehicles and determine whether licenses have expired.
Follow Emirates 24|7 on Google News.