3000 people participate in a walk organised by Dubai Sports Council in Hatta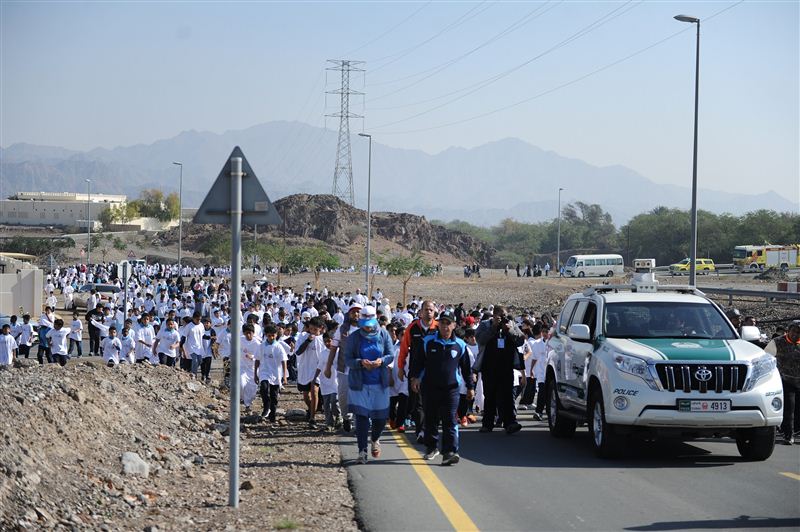 More than 3000 people participated in a walk organised in Hatta by Dubai Sports Council as part of the Sheikh Hamdan Bin Mohammed Community Sports Initiative. People of various age groups from Hatta and its outlying areas took part in the walk held on Tuesday 28 February.

The initiative is part of the Hatta Comprehensive Development Plan, which was approved last November by Vice President and Prime Minister of the UAE and Ruler of Dubai His Highness Sheikh Mohammed bin Rashid Al Maktoum. The AED 1.3 billion plan seeks to turn the mountain city of Hatta into a world-class tourist destination.
The plan seeks to develop sports tourism by developing green areas for camps and sports venues, including a mountain bike circuit that can host international competitions.
The 3 km walk started from the Al-Talta Park in the city centre and ended at the Hatta Sports Club. People of different age groups including elderly and women participated in the walk. Employees of various government departments also participated in the event along with students of private and government schools.
Chairman of Hatta Sports Club and President of Hatta Football Company Ali Mohammed bin Obeid Al Badawiwi, extended his gratitude to His Highness Sheikh Mohammed bin Rashid Al Maktoum for his support and directives to develop Hatta.
He also extended his gratitude to Crown Prince of Dubai and Chairman of Dubai Sports Council Sheikh Hamdan bin Mohammed bin Rashid Al Maktoum to issue directives to launch the Sheikh Hamdan Bin Mohammed Community Sports Initiative. "We are sparing no effort to create a conducive environment for sports, as physical exercise is good for mind, body and spirit, and enhances harmony between different groups of society."
"I extend my appreciation and thanks to Dubai Sports Council for this initiative, and its efforts to organise sports activities in Hatta for the last eight years, which contributed to the development of Hatta's infrastructure including the new stadium that can host international games. I also want to thank all those who attended the walk, and would like to say that Hatta is ready to welcome everyone whether it is for sports or tourism."
Follow Emirates 24|7 on Google News.