4 Dubai students win DECA Idea Challenge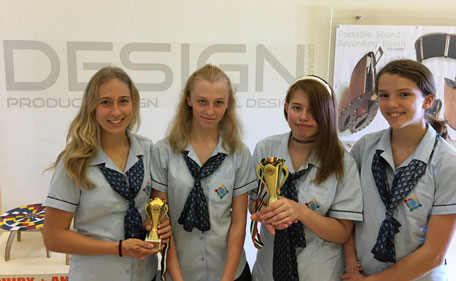 Four Dubai students are global winners of the DECA Idea Challenge 2015 for their innovative idea of sun shelter aimed at construction workers of the emirate.
The Grade 8 girls from Gems World Academy Dubai, encouraged by their design teacher Simon Kuznetsov, looked for innovative ideas that would really benefit people's lives; and came up with 'The Shades'.
Living in the UAE, the girls were inspired by the numerous news stories in the local press about how up to 10 people per day suffered heat stroke, as they would be working out in the sun.
"After experimenting during lunchtimes and after school with different ways in making the shelter, the students finally developed an inter-locking design which was successful, using only cardboard and a few meters of string which would tie the pieces together. They also produced a small card model so they could explain to others how to build the structure," said Kuznetsov.
Eileen J. Council, Secondary School Principal, Gems World Academy, said: "I am incredibly impressed with the creativity and compassion of these girls to strive to improve the life of construction workers in Dubai. This simple yet ingenious design, using ubiquitous materials, clearly demonstrates their ability to think strategically and globally. These students are a wonderful representation of the IB Learner Profile. What an accomplishment."
Several UAE schools, including 14 Gems schools, submitted entries this year. Each global winning team will be recognised on both the Global Entrepreneurship Week and DECA Inc websites and will receive a monetary award.
The competition received over 2,230 team submissions from 8,456 students around the world. Matilda Siri, Mada Otte, Joelle Hull and Danielle Long were proclaimed world champions of the high school category.
The DECA Idea Challenge is an energising, experiential exercise that dares elementary through college students worldwide, to generate an innovative and sustainable new use for a commonplace item. They then have to pitch their idea in a 3-minute YouTube video presentation – all in eight days. This year's item was cardboard boxes.
Follow Emirates 24|7 on Google News.