430 boats worth Dh1.8bn on show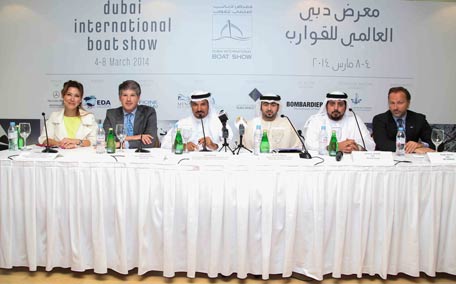 Dubai International Boat Show 2014 has experienced robust growth in tandem with the Middle East maritime market's surge in growth due to a range of factors including major coastal developments, soaring consumer confidence and accelerated boat manufacturing activity.

Hosting Expo 2020 is also set to have a significant impact on the marine industry in Dubai and the UAE, acting as a catalyst for economic growth, marine industry experts say.

Robust show growth is evidenced by a 20% participation of new exhibitors among the 750 companies and brands at the show and 42 global and regional premiers that are scheduled to take place. In addition, over 430 boats valued at Dh1.8 billion will be displayed at the 22nd edition of the show. Dubai International Boat Show organisers have confirmed 30 luxury boats exceeding 21 metres, which includes 19 spectacular superyachts.

The Dubai International Boat Show 2014, the region's leading leisure marine event organised by Dubai World Trade Centre, is expected to draw 26,000 visitors from 70 countries from 4-8 March at Dubai International Marine Club, Mina Seyahi. Reflecting growing international interest in the Middle East as a key maritime market, over 70% of exhibiting companies come from overseas, highlighting the show's international status. Participating exhibitors hail from more than 50 countries including the Maldives and the Philippines for the first time.

One of the show's main attractions is the 88.5-metre-long superyacht Nirvana, built by Oceanco and exhibited by Edmiston, at the stunning Marina Display area. Nirvana is one of the world's top 50 longest superyachts and the exhibition's largest-ever superyacht to date. Nirvana is crafted using the world's most exquisite materials and features two helipads, six decks, a stage for live performances, a 3D cinema and more. It has a range of 6,800 nautical miles, a maximum speed of 19.5 knots and can accommodate 12 guests in 6 cabins with 27 onboard crew.

Plans for the world's largest and fastest-ever all-aluminium yacht, the SILVER-FAST 77m, which is currently under construction, will be announced by UAE-based BehneMar Yachting Consultancy. The SILVER-FAST 77m will be fourth in the company's Silver Yachts line, complemented by the locally-built 85-foot-long Blue Dubai Dhow.

Strong maritime growth

Boat building is a key driver of growth in the maritime industry, as UAE luxury yacht builders plan to build 18 superyachts – those 24 metres and longer – exceeding 850 metres in total, as reported by US-based ShowBoats International Global Order Book 2014. The definitive guide to the world's luxury superyacht industry ranked the UAE as the world's ninth most productive manufacturers of superyachts.

Market research undertaken by Dubai Maritime City Authority revealed that Dubai's maritime sector is a major income generator for the Emirate, contributing Dh14.4 billion to Dubai's GDP and supporting more than 75,000 job opportunities across the UAE due to integrated infrastructure, world-class maritime regulations and services.

With boat purchases highly correlated with consumer confidence and gross domestic product, the MasterCard Index of Consumer Confidence scored the UAE's consumer sentiment levels at 94.7 with UAE consumers "extremely optimistic" over all five indicators, which includes regular income, quality of life, employment, economy and stock market.

Helal Saeed Almarri, Director General, Dubai Department of Tourism and Commerce Marketing (DTCM) and CEO, Dubai World Trade Centre, said: "Dubai's role as a highly influential maritime hub has gone from strength to strength, with the 22nd edition of Dubai International Boat Show continuing to set the bar higher year-on-year. Undoubtedly the show has served as a cornerstone by bringing together the best the industry has to offer on a globally visible platform to drive the regional boating industry. We are extremely confident that the event's, and indeed the industry's, futures are extremely robust."

Saeed Hareb, Vice President, Dubai International Marine Club and Senior Advisor, Dubai International Boat Show, said: "Dubai is set to become the world's leisure maritime capital, thanks to modern marina facilities, strong maritime tourism infrastructure, and increasingly-knowledgeable boat-buying customers. Dubai cementing its status as a hub for mega-events is making a major impact on the leisure maritime market, with millions of visitors wanting to experience the UAE from the water."

The enduring partnership between Dubai International Boat Show and Dubai International Marine Club has helped cement Dubai's strategic position as a premier marina location in the region and the world. Over the years Dubai International Marine Club, one of the region's leading maritime hubs, and Dubai International Boat Show have jointly grown in influence and stature in the regional and global marine industry.

According to research by ART Marine Marinas Division, the UAE currently has 30 marinas and 4,816 berths, and 64 marinas and 12,629 berths in the GCC overall, with the UAE accounting for 38% of the entire GCC marina berthing market.

Emphasising the UAE's booming maritime market, the Dubai International Boat Show will host 16 UAE-based boat builders. UAE-based Gulf Craft, one of the world's top 10 superyacht manufacturers, will bring eight boats to the show. Over the last two years, Gulf Craft reports that orders for small boats (9-13 metres long) have tripled while superyacht orders are also posting strong growth.

'With the recent breaking ground of a number of remarkable infrastructure and waterfront real estate projects like the Dubai Canal, marine community lifestyle stays very much at the heart of the on-going Dubai developments," said Erwin Bamps, COO, Gulf Craft. "It is the drive behind the recent upturn in demand for smaller leisure craft as well as mid-size fly-bridge yachts in the local market, with residents of the Emirate displaying a natural affinity for on-water living and entertainment.'

The "UAE Inspired" Pavilion will give a boost to small-to-medium-sized UAE-based boat builders: Al Rubban Marine, Al Shaali Group, Julfar Craft, Ocean Boats, and National Marine Alliance. The Ajman-based Al Shaali Group, one of the region's prominent manufacturers of yachts and boats, will conduct a global boat launch and will bring a line of boats to the Dubai International Boat Show 2014.

"Dubai International Boat Show is the one and only gathering of all stakeholders in the region's marine industry," said Sultan A. Alshaali, CEO, Alshaali Group. "Whether you are a manufacturer, supplier, broker, or a yacht owner, you cannot miss out on this magnificent event, which has been and will always be the main boat show in the Middle East and GCC, driving the marine industry to constantly develop products and services."

Key international maritime market

Exhibitors, including the UAE-based ART MARINE, the Middle East's largest 360-degree leisure yachting enterprise, are looking forward to interacting with international clientele.

"The Dubai International Boat Show is always an important event for ART MARINE, and 2014 will be no different," said Gregor Stinner, CEO, ART MARINE. "The show provides us with the perfect platform to promote our offering to the discerning Middle East customers, and indeed to the customers from all over the world that attend in vast numbers."

Stinner continued: "Dubai is one of the major hubs for boating enthusiasts in the region, and the show is therefore a key event for us when it comes to reaching new clients and further expanding our business network. Every year sees more and more buyers enter the market, so it is vitally important for ART MARINE to be seen at one of the Middle East's most prestigious marine and leisure events."

Longstanding maritime markets such as the United States are positioning for greater growth in the Middle East, with American exhibitors leasing 35% more space compared to the 2013 edition. Key American exhibitor, Enterprise Florida, the state's economic development organisation for over 58,000 businesses, as part of its promotion of international trade will attend the show this year.

Show features for the whole family

"We welcome all visitors aboard the Dubai International Boat Show 2014, from key buyers looking to purchase a superyacht, to casual maritime enthusiasts excited to see the world's most impressive yachts, the latest diving technology, or the UAE's rich maritime heritage," said Trixie LohMirmand, Senior Vice President of Dubai World Trade Centre, the organiser of the exhibition. "As we post another year of growth in terms of boats, exhibitors, and launches, the Dubai International Boat Show 2014 is set to hoist anchor and become one of the world's leading maritime exhibitions."

Show sectors include The SYBAss Lounge (organised by the Superyacht Builders Association – SYBAss), Marina Display, Outdoor Display, Luxury Supplies and Services, Equipment Supplies and Services, Dive Middle East Exhibition, Supercar Promenade, and the Heritage Village sponsored by the Dubai Department of Tourism and Commerce Marketing. On 5 March, the Gulf Boating Conference will tackle the topic "Achieving Sustainable Growth in the GCC and Beyond."

New this year are the On Water VIP Experience, a high-end on-board superyacht catering service for VIP guests, and the Dubai International Boat Show TV (DIBS TV), which features breaking show news, highlights and innovations daily from the exhibition floor and marina. Visitors can also participate in exciting Visit-and-Win promotions, including entering to win 2014 FIFA World Cup Brazil semi-final and final ticekts.

Key returning partners include Italian luxury watch brand Officine Panerai as Supporting Partner, Mercedes-Benz as Official Car Partner, and ART MARINE as Marina Display Partner. Bombardier, the world's only manufacturer of both planes and trains, is the exclusive sponsor of the LSS indoor pavilion.

As part of Dubai Food Festival activation, Nobu Atlantis, The Palm, will be at Dubai International Boat Show 2014, which has long been associated with premium brands from yachting to fine dining. Launched by Dubai Festivals and Retail Establishment (DFRE), Dubai Food Festival features city-wide events, industry conferences and appearances from world-renowned chefs, plus a wide range food-related activities, tastings and events.

The 22nd Dubai International Boat Show is held at the Dubai International Marine Club - Mina Seyahi, on March 4-8, 2014. The event will be open to trade visitors and the general public from 3 pm – 9:30 pm daily.
Follow Emirates 24|7 on Google News.