48-hour Weather: Scattered rain in Dubai, 8-foot waves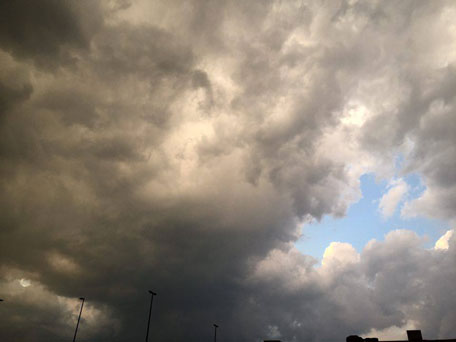 As the UAE woke up to scattered showers on Monday across parts of Dubai and Abu Dhabi, the country's weather bureau confirmed this seasonal system will continue for another 48 hours.
Parts of Dubai, including Mirdif, Jebel Ali and Oud Metha, experienced scattered showers yesterday, with the National Centre for Meteorology and Seismology (NCMS) saying weather on Tuesday and Wednesday will follow in a similar pattern.
"The scattered showers we experienced across parts of Dubai on Monday will continue in such a pattern for another 48 hours, although the clouds were concentrated in western UAE and eastern Saudi Arabia," an NCMS spokesperson told Emirates 24|7.
A marine warning has also been issued for the Arabian Gulf and the Oman Sea.
The Mercury is also expected to plummet, with fresh winds possibly kicking up dust and sand over open areas.
"By Tuesday morning, the clouds will move further towards the eastern slice of UAE, namely Ras Al Khaimah, Fujairah and south of Al Ain City, which could experience scattered rainfall," the spokesperson added.
The rain will also see the temperatures drop by nearly four degrees or so, bringing back a cool wintery weather after days of seeing the Mercury rise to the mid-thirties.
"The northwesterly winds will be fresh over the Arabian Gulf, which could give rise to eight-foot waves, with later also affecting to Oman Sea in the evening."
The weather on Wednesday is also expected to follow in a similar pattern, added the NCMS.
Follow Emirates 24|7 on Google News.