5 pedestrian bridges on Sharjah's busy roads: Click for where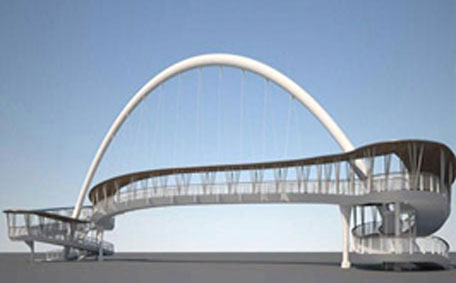 In line with the vision of His Highness Sheikh Dr. Sultan bin Mohammad Al Qasimi, Member of the Supreme Council and Ruler of Sharjah, the Sharjah Urban Planning Council (SUPC) has approved designs of five pedestrian bridges, which will be built in five areas in Sharjah, in collaboration with the Sharjah Roads and Transport Authority.
The approval of the five pedestrian separation structures is part of efforts made by SUPC to improve service efficiency and quality of life in Sharjah, to develop a more sustainable infrastructure for residents and visitors and to add more reasons to make Sharjah an ideal place to live in for existing and future generations.
The bridges will be provided with elevators and shaded walkways for all people. (Wam)
The five pedestrian bridges will be constructed in major areas including King Faisal Road, King Abdulaziz Street, Al Ittihad Road and Al Taawun Road.
The bridges will be provided with elevators and shaded walkways to ensure accessibility for elders and people with special needs and safe crossing for all people.
Sheikh Khalid bin Sultan Al Qasimi, Chairman, SUPC, said: "We are consistently striving to support and develop projects that help provide quality service to citizens, residents and visitors in Sharjah.
"Developing projects of this kind is a top priority for SUPC, as such structures will complement the attractive architectural landscape and the fully-functional infrastructure in the emirate and will respond to the needs and aspiration of people and communities.
"The purpose of pedestrian bridges is to improve pedestrian safety at major intersections and main roads in the city of Sharjah".
By building pedestrian bridges, SUPC aims to improve the safety measures, encourage main road users to use footbridges and ensure safe crossing for children, the elderly and people with special needs.
The bridges will be provided with elevators and shaded walkways for all people. (Wam)
Khalid Mohammed Al Ali, Secretary-General of SUPC, said: "The development of a network of pedestrian bridges is part of the SUPC's strategy to approve projects that meet the emirate's ambitions towards attractive urban environment that helps improve the quality of life in the emirate.
"These bridges have been designed in accordance with the best international requirements and will cover, in the first phase, some lively areas in the emirate, and will be followed by more phases later. Five areas of first phase were selected based on studies of road traffic density, rate of accidents, number of pedestrians, walking distance to the nearest public transport stations and the surrounding markets and institutions".
Follow Emirates 24|7 on Google News.