5 'underwater' villas in Dubai sold: Europeans, GCC nationals, Indian buys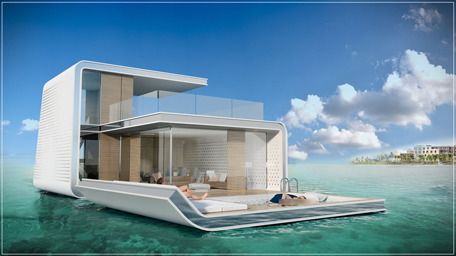 Update: Five underwater villas in Dubai's The World development have been sold, according to the developer.

"Privilege Dubai has bought 20 villas from us. They launched five villas yesterday (Saturday) and all of them have been sold for Dh5 million," Josef Kleindienst, CEO, Kleindienst Group, told Emirates 24|7.

Two of the investors are from Europe, while the remaining three are from GCC states and an Indian, with a UAE residency permit, he disclosed.

THOE will have 42 underwater villas. Twenty have been sold to Privilege Dubai, while the developer holds the remaining 22 villas, which it plans to launch at a later stage.
The first 'underwater' villas on Dubai's The World development went on sale on Saturday, with the pre-launch price set at Dh5 million.

The three-level villas - the lowest level being under water - are part of Kleindienst Group The Heart of Europe (THOE), which will have rain and snow-filled streets and floating bridges.

The villas are being sold by Privilege Dubai, a real estate consultancy, which has bought the underwater villas from the developer.

The consultancy has invited only investors and end-users to its pre-launch event and states in its invite that the 1,700 square foot villas are expected to be completed by 2017 with payment linked to construction timeframe.

The number of villas on sale have not been given. No Privilege official could be reached for comment.

Emirates 24|7 has learnt that the developer will officially launch new batch of underwater villas by March.

The Heart of Europe comprises six islands: Germany, Austria, Switzerland, Netherlands, Sweden and St. Petersburg with six additional destinations being Sochi, Belgium, Luxembourg, Geneva, Monte Carlo and Poland.

Emirates 24|7 reported before that a part of the project will have the world's first 'rain and snow-lined streets'.

Read: Heart of Europe in Dubai: Streets with snow

In January 2015, Oqyana Real Estate, a developer, signed a deal Dutch Docklands to create a private island villas within the 'Oqyana World First development', a project in The World islands.

The World

The World project is nine-kilometres wide and seven kilometres-long. It covers an area of 931 hectares and will add 232km to Dubai's natural 67km of beachfront.

The islands range from 150,000 to 450,000 square feet in size.

The project is divided into private estate island zones, commercial zones, which have low/mid/high density resorts, hubs for ferry transfer points and public visitor areas.
Follow Emirates 24|7 on Google News.