54 injured Yemenis to receive treatment at Indian hospitals at expense of UAE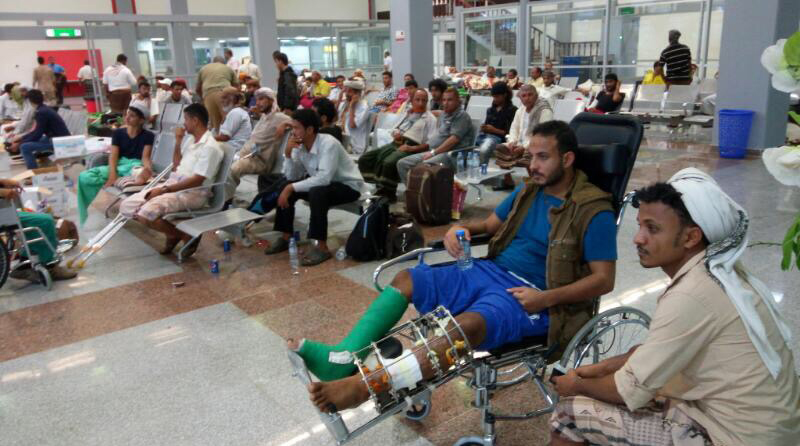 Emirates Red Crescent (ERC) announced Saturday that it is sponsoring the treatment of 53 injured Yemenis affected by the Yemeni war at Indian hospitals.
The move follows the directives of President His Highness Sheikh Khalifa bin Zayed Al Nahyan, His Highness Sheikh Mohammed bin Zayed Al Nahyan, Crown Prince of Abu Dhabi and Deputy Supreme Commander of the UAE Armed Forces, and follow up by H.H. Sheikh Hamdan bin Zayed Al Nahyan, Ruler's Representative in Al Dhafra Region and Chairman of the ERC.
The ERC will also bear the cost of 42 health companions who will travel along with the injured to ensure that their health and psychological conditions are met within the psychological and moral support programme provided by the ERC in such cases.
The move also comes in the context of the continuous support provided by the UAE to Yemenis to alleviate their suffering and stand by them in these difficult circumstances facing them.
The ERC provided all means to transport the wounded to approved hospitals immediately in coordination with the Yemeni government, in accordance with a programme prepared in this regard.
Given the poor health sector in Yemen, the ERC has taken care of these cases as part of the UAE's continued role in supporting the legitimate Yemeni government and the Yemeni people.
The humanitarian and health situation in Yemen has reached catastrophic levels due to the intransigence of the militias who prevent the entry of relief aid and medicines to the various Yemeni regions. Hence, the suffering of the Yemeni people increased.
The UAE continues to provide the relief and development assistance, which reached US$ 2 billion to alleviate the suffering of the people of Yemen.
The ERC previously treated many wounded Yemenis and dispatched several medical and relief convoys in support of Yemenis. The UAE provides all kinds of development support to the legitimate Yemeni government and relief to the Yemeni people.
Follow Emirates 24|7 on Google News.