5th Sharjah Light Festival set to begin today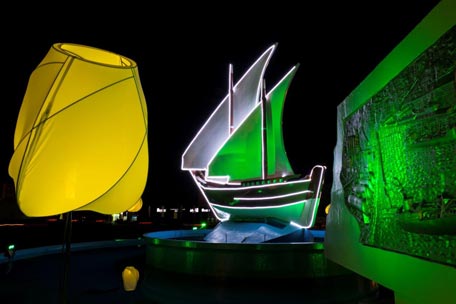 The 5th annual Sharjah Light Festival will begin this evening with a high-profile ceremony organised by Sharjah Commerce and Tourism Development Authority (SCTDA) at Al Qasba. The festival, which is the first event of its kind in the region, runs for nine nights from February 5 to 13.
Photo by Ashok Verma
This year the festival takes place in 14 locations across the emirate offering a combination of light and music to create innovative three-dimensional designs on mosques, key landmarks and heritage buildings. Apart from locations within Sharjah City, the festival will light up major sites across the Emirate of Sharjah in Khorfakkan, Dibba Al Hisn, Kalba and Al Dhaid. In all cases the festival will showcase the architectural splendor and cultural history that distinguishes Sharjah.
SCTDA announced details of the Sharjah Light Festival 2015 earlier naming new plans and locations for the event this year. New locations include Masjid Al Taqwa, Al Majaz Amphitheatre overlooking the Khalid Lagoon, Masjid Al Muhajerin in Dibba Al Hisn, University of Sharjah campus in Khorfakkan, and Masjid Ammar bin Yasser in Dhaid.
Photo by Chandra Balan
The festival will also light up the popular locations of the past years which include Al Qasba (External Facade), Al Qasba (Internal Facades), Al Majaz Waterfront, Cultural Square, Masjid Al Noor, Central Souk, Sharjah University – Kalba, and Khalid Lagoon. Several new features and shows have been included to add more charm to the festival this year, most notably the Khalid Lagoon Corniche Light Design Show and the Khalid Lagoon Giraffes' Parade. The breath-taking Giraffes' Parade is a narrative and theatrical performance that has been travelling across several cities around the world, including Zaragoza, Moscow, Rome, Toronto, Bilbao and London.
The display of lights and innovative performances have been organised using the latest technology under the supervision of international experts with experience in similar festivals in France and Germany. Using 3D and 2D animation techniques, the festival highlights the beauty of Sharjah's famous cultural icons through graphic designs, calligraphy and wide variety of colours, transforming these architectural landmarks into beautiful pieces of art.
Photo by Mustafa Kasmi
The opening ceremony this evening will also mark the official announcement of Sharjah Arab Tourism Capital 2015, awarded to Sharjah at the 15th session of The Arab Council of Tourism Ministers in Cairo in 2012.
Photo by Ashok Verma
The Sharjah Light Festival has become an important event in Sharjah's tourism calendar, attracting thousands of visitors and families. Over the past years, SCTDA has organised the festival to draw more visitors to Sharjah and present the emirate as a tourism destination.
Photo by Chandra Balan
The Sharjah Light Festival 2015 has attracted Sharjah Municipality, Sharjah Transport, Sharjah Police Headquarters, Shurooq, Zulal, Directorate of Public Works, Sharjah Civil Defence Department, and SEWA as co-sponsors. Nomada is the Partner of the event while Al Khaleej, Sharjah Media Corporation and Channel 4, 107.8 FM are the media sponsors.
Photo by Chandra Balan

Follow Emirates 24|7 on Google News.