6,628 Toyota RAV4 in UAE recall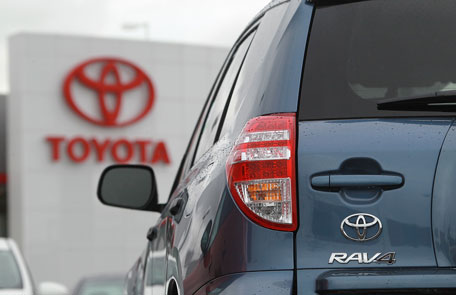 Let's hear the good news first; the Lexus HS 250h vehicles being recalled in certain global markets by Toyota are not sold in the UAE market.

The bad news: the Toyota RAV4 recall will affect the local market.
A statement from Al Futtaim Motors confirms that those UAE residents who own 2006–2011 year model Rav4 vehicles, will need to get their cars to to the Al Futtaim service centres for a thorough check-up.
The Toyota franchise in the UAE will commence a service campaign from Sunday, August 5, 2012 and contact its customers directly.
The statement also mentioned that all vehicles would require a 45-minute inspection; however only a small number of vehicles are likely to require any components to be replaced.
"Following communication with Toyota Motor Corporation, we have begun a customer satisfaction campaign on 6,628 units of 2006 – 2011 year model Rav4 vehicles. Toyota Motor Corporation has informed that if the nuts on the rear suspension arm have not been tightened correctly following any rear wheel alignments adjustments, rusting may occur which if left unaddressed could lead to a malfunction in the rear arm. Al-Futtaim Motors will inspect the tightened nut on the affected vehicles to make sure they meet the proper torque specification."
Earlier, in the early hours on Thursday, the Japanese car manufacturing company announced its safety recall involving its RAV4 models, dating between 2006 and early 2011.

Also affected are the 2010 model year Lexus HS 250h vehicles. No other Toyota or Lexus vehicles are involved, said its official US website.

According to the site, there are safety concerns over the rear suspension arm.

Currently, nearly 760,000 Toyota RAV4s have been affected in the US market, along with another 18,000 Lexus HS 250h.

But US is not alone in its woes.

Toyota Canada also confirmed to news media it's recalling some 99,000 RAV4 vehicles – some built at an Ontario plant – from Canadian roads to fix a suspension problem that could cause crashes.

A spokeswoman for Toyota Canada said the affected vehicles were built in Canada and Japan.

Meanwhile, Toyota Australia has also confirmed with site Caradvice.com that it will inspect 66,377 Toyota RAV4 SUVs built between July 2005 and November 2010 due to concerns over a rear suspension arm flaw that led to a voluntary safety recall of the model by Toyota USA.

Toyota USA says it is currently developing a remedy for the issue, while Toyota Australia is contacting affected vehicle owners to organise vehicle inspections and carry out repairs where necessary.

Earlier this month, a buoyant Toyota announced it has bounced back from safety recalls and natural disasters, selling 4.97 million vehicles globally in the first half of the year to retake its crown as the world's top automaker from General Motors Co.

The Japanese company sold about 300,000 more cars and trucks than GM did in the first half of the year, a lead large enough that it will be difficult for GM to catch Toyota in the final six months of 2012.

GM said it sold 4.67 million vehicles during the first half.
Follow Emirates 24|7 on Google News.