6 injured in Abu Dhabi warehouse fire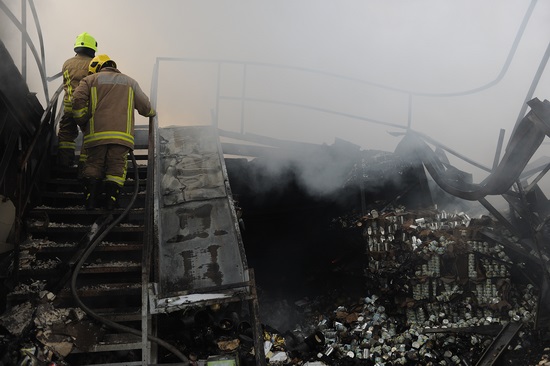 Abu Dhabi Civil Defense and Rapid Intervention teams successfully controlled a fire that broke out in a supermarket's warehouse in the Mussafah Industrial Area on Thursday.

Six people were rushed to the hospital after sustaining injuries as a result of the fire.

Two of the injured sustained medium injuries and the others sustained minor injuries – no lives were lost in the incident.

Major General Jassem Muhammad Al Marzouqui, the Civil Defense General Commander-in-chief who supervised the ground operations, was accompanied by Colonel Tariq Saleh Al Sharif, Acting Director General at the Abu Dhabi Civil Defense General Directorate; who explained that the five Civil Defense and Rapid Intervention teams along with a team of ambulances rushed to the scene upon receiving the reports from the Operation Room at 9:45 am.

The teams, who had been close by, immediately conducted their firefighting procedures to successfully control and contain the fire, and transferred the injured to nearby hospitals.

According to Colonel Al Sharif, the fire was classified as 'moderate' and the investigations are still underway to ascertain the facts and causes of the fire.

"It is imperative that all commercial facilities adhere to the preventive safety requirements for buildings, and to ensure that these procedures are applied," he said.

The Air Wing also participated at the scene, with its wireless aircrafts used to transmit live images of the fire to help the decision-makers on the ground. For their part, Traffic Patrols organized the traffic, and the Air Wing helicopters updated the Operation Room regarding the status, situational logistics, and distribution of resources throughout the firefighting operations.
Follow Emirates 24|7 on Google News.