600-year-old mosques discovered in RAK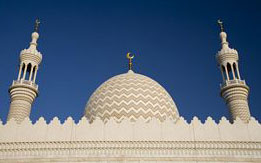 Two ancient mosques built about 600 years ago have been discovered in Ras Al Khaimah.
The archaeologists confirmed one of the mosques was used during summer and the other during winter months. And both have a capacity to accommodate about 250 people, according to a report in 'Al Ittihad' newspaper.
Archeological teams from the University of Oxford in the US, Britain and Spain in collaboration with the University of Gottingen of Germany discovered the two mosques in Al Fahleen area in Ras Al Khaimah.
Christian Veldha, an expert with the Department of Antiquities and Museums of Ras Al Khaimah, said: "The discovery follows the excavation on the remains of the historical area of Nadod of Julfar, dating back about 500 years. The study was undertaken following the directives of Sheikh Saud bin Saqr Al Qasimi, Crown Prince and Deputy Ruler of Ras Al Khaimah.
Veldha said Julfar saw active commercial movement in the past. It was considered the main entrance to the Arabian Gulf for people coming from other regions for trade purposes.
This latest discovery will throw light on the lifestyle of people during that period, he added.
Nasser bin Tahnoon Al Naqbi, an archaeological researcher and an inhabitant of the region, said: "Al Fahleen area was inhabited since ancient times by Al Naqbeen tribe. A number of towers and Mount Al Hakab that surrounds the place protected its people from enemies.
He added that the two mosques were built with gravel and plaster in accordance with the Islamic architectural style.
Follow Emirates 24|7 on Google News.