65% of Wafi Interchange completed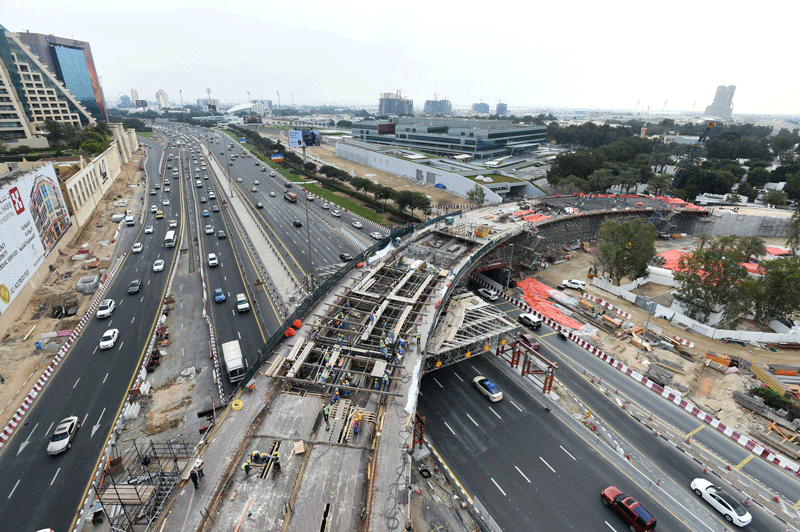 Mattar Al Tayer, Director-General and Chairman of the Board of Executive Directors of Roads and Transport Authority (RTA), announced that 65 per cent of construction works in Wafi Interchange had been completed and the project would be fully completed and opened by end of April 2016.
The contractor has completed almost 70 per cent of construction works in the flyover along with lighting and utility works, and road works completion has reached 35 per cent. The project, which costs about Dh88 million, comprises construction of a three-lane bridge branching from Oud Metha Road (nearby Latifa Hospital) in the direction of the Sheikh Rashid Road, and from there to Sheikh Zayed Road and Al Saada Road (through the overpass leading to the Dubai World Trade Centre). The new bridge spans 700 metres, and has a capacity to handle 3,300 vehicles per hour. Project works also include lighting, signage, rainwater drainage, and utility lines.
"The construction of Wafi Interchange is part of RTA's strategy to improve and upgrade main roads network in the Emirate of Dubai, and Wafi Interchange is very important as it links with main roads, and intersects with Sheikh Rashid Road and Oud Metha Road. The interchange is also characterised by high vehicle density, with traffic lanes overlapping with the curves of the interchange," stated Al Tayer.
"When completed, the project would eliminate the overlapping traffic at the interchange, and ensure a smooth vehicular movement in various directions. The traffic would run smooth from Oud Metha Road in the direction of Al Ain to the East and from Sheikh Rashid Road in the direction of Oud Metha to the west (Umm Hreir, Oud Metha). These solutions are part of the overall solutions developed by RTA for coping with snarls experienced by the Emirate," continued Al Tayer.
In accordance with the master plan of traffic diversions charted by RTA to ensure smooth traffic flow, the traffic has been temporarily diverted in Sheikh Rashid Road. The design of the temporary diversion fully conforms to specifications of permanent roads in terms of engineering design standards, and sufficient lighting matching to the design speed of the road for the safety of users. The diversion also maintains the same number of lanes of the diverted road to avoid any negative impact giving rise to congestions.
Follow Emirates 24|7 on Google News.