71 accidents reported in Dubai due to fog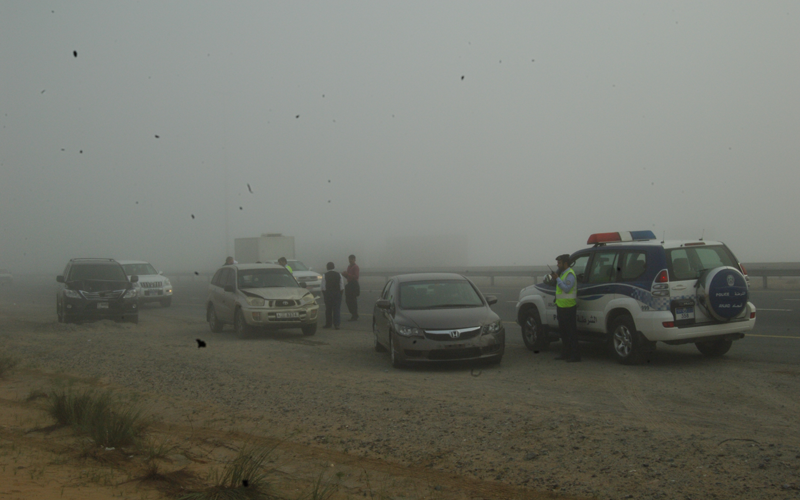 73 accidents were reported on Monday in Dubai and Sharjah due to early morning fog.
Command and Control Room of Dubai Police recorded 71 traffic accidents in different areas of Dubai.
Colonel Ahmed Suhail, Director of Command and Control Center, appealed to all motorists and pedestrians to be careful during poor weather, particularly in heavy fog.
Suhail asked all drivers to follow the alerts released by the authorities in the country for safe driving, pointing out that traffic accidents in fog or rain are very dangerous, especially if people are driving recklessly and fast.
He asked drivers to ensure that windshields, windows and headlights are clean for safe driving, in addition to leaving enough distance between vehicles. He also urged motorists to reduce speed and commit their vehicles to a lane except in cases of necessity.
He stressed the importance of using all vehicle lights in the early morning hours, and asked motorists to go to the nearest police station in case of minor accidents.
In Sharjah today, five people were injured in two accidents involving 63 vehicles due to fog.
The first accident occurred at 7am in which 30 vehicles were involved. The second incident occurred after Junction 7 towards the suburb of Rahmaniya involving 33 vehicles.
Police blamed drivers for excess speed and not maintaining sufficient distance between vehicles during fog for the accidents.
All the five injured were given first aid at the accident site.
National Center of Meteorology & Seismology today urged motorists to be more cautious on the roads while driving due to low horizontal visibility owing to fog on a number of areas in the state.

In a statement the centre has urged people to abide by the traffic rules, reduce speed and keep a safe distance between vehicles to avoid traffic collisions on the roads of Abu Dhabi and Northern Areas in the Country.
MUST READ:
MUST READ:
Follow Emirates 24|7 on Google News.