7th Pink Caravan Ride receives grand welcome into Abu Dhabi by Mother of Nation Festival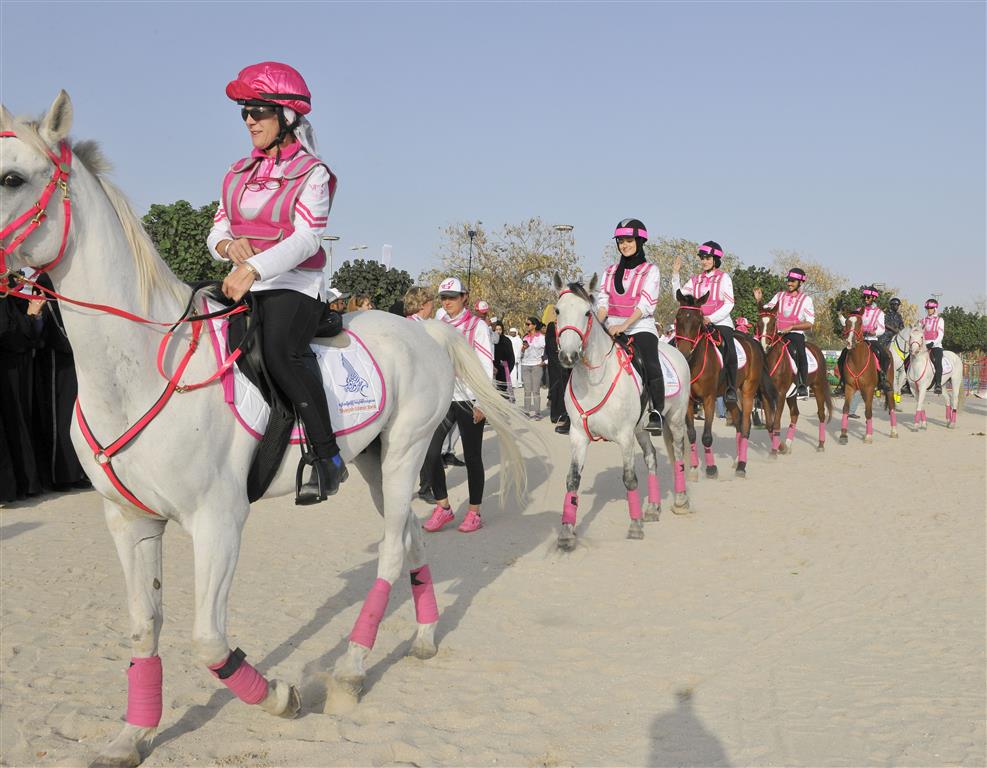 The final phase of 7th Pink Caravan's Ride's (PCR) 10-day breast cancer campaign got off to an extraordinary start with a celebratory welcome into the capital city by General Women's Union (GWU) at their Mother of Giving Festival on Thursday.
Wives of the ambassadors of Sudan, the United Kingdom, Djibouti, India, Sri Lanka, and representatives of international women's organisations from across the globe were also present as Abu Dhabi's Mounted Police Force escorted the Pink Caravan Ride into the beach.
The 10-day trek themed 'Seven Years For Seven Emirates' was launched on 7th March to travel across the seven emirates offering free breast cancer screenings, and raising awareness about the disease by emphasising early detection.
"Like every year, Sheikha Fatima bint Mubarak, Chairwoman of the General Women's Union, Supreme Chairwoman of the Family Development Foundation and President of the Supreme Council for Motherhood and Childhood, wanted us to open our arms to the Pink Caravan Ride. The Mother of Giving Festival highlights her vision and celebrates benevolence and humanity in the 'Year of Giving,'" Noura Khalifa Al Suwaidi, Director-General of the Women's Union, said while welcoming the riders onto a lively Al Bateen Beach.
Reem BinKaram, Chairperson of the Pink Caravan's Higher Organising Committee, thanked GWU for its support while stating, "The Pink Caravan owes much of its success and outreach to Sheikha Fatima bint Mubarak, Mother of the Nation, whose continued support and compassionate vision has led us in this humanitarian endeavour of ours. It is only fitting that we are jointly celebrating Mother of Giving Festival, which shares our values of community engagement and development."
PCR started on Day 9 from Khalidiya, and travelled on the Corniche Road, crossing Marina Mall before moving towards the Sheikh Zayed Grand Mosque, which is the site of one of the clinics. From Sheikh Zayed Grand Mosque, the pink brigade headed to Healthpoint Hospital, Zayed Sports City, among the campaign's longstanding partners and sponsors of PCR's fixed clinic on Abu Dhabi Corniche.
"The earlier breast cancer is detected, the greater the chance of a full recovery, which is why the Pink Caravan is such an important national initiative. Healthpoint is proud to be the Abu Dhabi health partner for Pink Caravan in 2017 by providing breast cancer screening at Pink Caravan's fixed clinic on the Corniche for 10 days," said Dr. Mai Al Jaber, Deputy Medical Director at Healthpoint Abu Dhabi, Specialist Public Health Medicine.
The new PC fixed clinic located on Al Bateen beach will run throughout the duration of Mother of Giving festival until Saturday, 25th March.
Follow Emirates 24|7 on Google News.