87-cm tall Emirati cop eyes Guinness record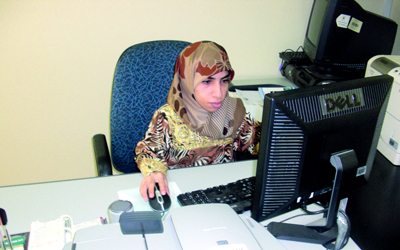 Sergeant Aisha Al Hamoudi of Fujairah police is only 87-cm tall, but she says she is not ashamed.
On the contrary, Aisha is planning to push into Guinness book of world records as the shortest working police woman in the world.
The 31-year-old woman joined the police force in the eastern emirate after completing secondary school studies and graduating from an institute at the ministry of interior specialised in rehabilitation and recruitment of the handicapped.
Through her studies and career, she was awarded several merit certificates, mainly an award for her active contribution to a programme on "how to transform a handicap into success."
She said that after joining that institute, her life completely changed.
"This because I felt that I became an active community member with a great responsibility to serve my people and my homeland," she said.
"I am planning to enter Guinness Book of Records as the shortest police woman in the world. I want to achieve this goal because I want to be an ambassador for the handicapped, to be close to them and to express their concerns and problems," she told the Dubai-based Arabic language daily Emirat Alyoum.
Aisha said she had never been "ashamed of being short" whether within her family, neighborhood, public places or at work, adding that she lives a normal life armed with "my great self-confidence and my capabilities."
"The problem with the handicapped people is not only to get them to work. The problem is that some of them faced real obstacles after joining work as they could not adapt. Besides, some employer lack awareness of the need to find the suitable job for the handicapped so they will succeed and continue," she said.
Aisha is the eldest of her five sisters and two brothers, who she said all have normal height.
"Being short has never been an obstacle for me to exercise my role within my family and shoulder my responsibility towards my younger sisters and brothers."
Follow Emirates 24|7 on Google News.