96 Quran memorisers to compete in Dubai International Holy Quran Award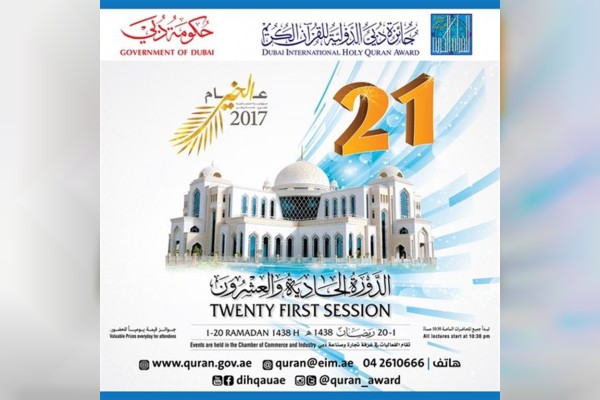 As many as 96 Quran memorisers will vie in the 21st edition of the Dubai International Holy Quran Award, DIHQA, this Ramadan.
The announcement was made by Ibrahim Mohammed Bu Melha, Adviser to the Ruler of Dubai for Cultural and Humanitarian Affairs and Head of DIHQA Organising Committee. "We have so far received confirmation from 96 countries and foreign communities around the world that they will participate in the 21st edition of the global prestigious award," he said.
The competition, which will run from 1st to 20th Ramadan, 1438 H, at the auditorium of the Dubai Chamber of Commerce and Industry, is held annually under the patronage of Vice President, Prime Minister and Ruler of Dubai, His Highness Sheikh Mohammed bin Rashid Al Maktoum.
The winner will get Dh250,000, runner-up will receive Dh200,000 and Dh150,000 will be given to third position, Bu Melha elaborated. "Up to Dh350,000 will be given to the winners from the fourth to the tenth positions as per their performance and scores while cash prizes up to Dh2 million will be presented to the rest of contestants, from 11th to the final position," he added.
A special prize will be given to the Quran memorisers with most beautiful recitation; a contest that is widely followed-up for local, regional and international audience.
Prof. Dr. Mohammed Abdulrahim Sultan Alolama, Member of the DIHQA Organising Committee and Head of the Competitions Unit, said they are all set for the milestone contest with a variety of over 500 questions.
The final tests are to be judged by Sheikh Ibrahim bin Said bin Hamad Al Dosari, KSA, Sheikh Abdullah Mohammed Saeed Baemran, UAE, Sheikh Mohammed Ahmed Suleiman Al Jilani, Yemen, Sheikh Jaafar Yusuf Mohammed Mahmoud, Bahrain, Sheikh Taher Mohammed Saeed Al Assiuti, Egypt, and Sheikh Mohammed Fahd Abdul Wahab Kharouf, Syria.
Follow Emirates 24|7 on Google News.