Abu Dhabi Crown Prince praises national defence industry's progress as he tours IDEX 2017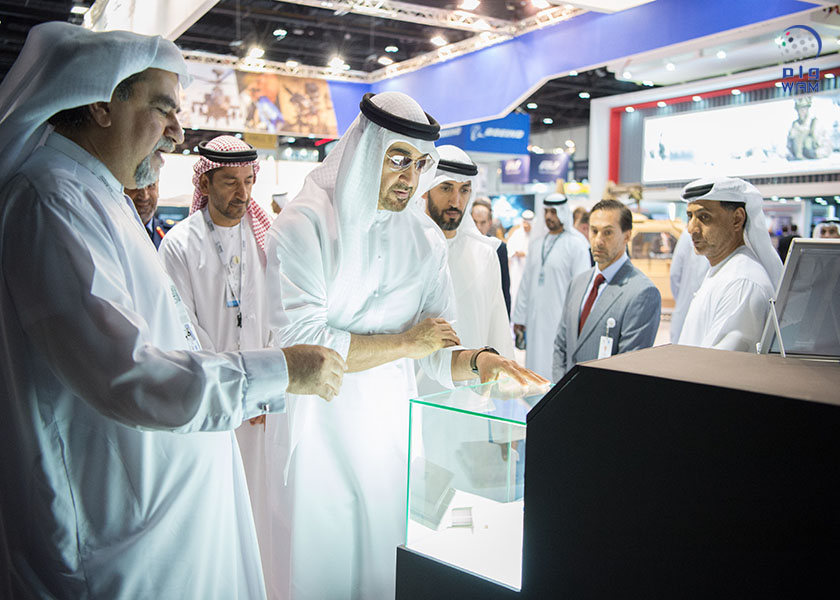 His Highness Sheikh Mohamed bin Zayed Al Nahyan, Crown Prince of Abu Dhabi and Deputy Supreme Commander of the UAE Armed Forces, today praised the national defence industry for making significant progress and becoming a significant source of support for the UAE Armed Forces.
He made the remark during a tour to 13th International Defence Exhibition and Conference (IDEX 2017) where he visited the stands of a number of national, Arab and foreign defence companies.
"The national defence manufacturing industry was built on the solid foundations laid by the nation's founder, the late Sheikh Zayed bin Sultan Al Nahyan, who had established a national military establishment that could carry out all the missions of defending the country. This is being realised today under the leadership of President His Highness Sheikh Khalifa bin Zayed Al Nahyan towards a purely Emirati military equipment manufacturing industry using Emirati expertise and manpower," H.H. the Crown Prince of Abu Dhabi said.
This, H.H. noted, is another proof that the efforts, being made and the resources being used to advance the military industry, are bearing fruit, serving the interests of the country and achieving the short and long-term goals.
"The UAE is committed to developing defence manufacturing through providing all required and necessary resources and support and investing in military research and co-operation with strategic partners, all within the context of a comprehensive plan to develop the national manufacturing sector in the UAE, on the one hand, and strengthen the UAE's stature as a regional and international power that can defend its territory and interests and, at the same time, while honouring its commitments to enhance regional and international peace and security," said Sheikh Mohamed bin Zayed Al Nahyan.
During his tour, H.H. Sheikh Mohamed visited the stand of Ozti, a leading Turkish manufacturer of field kitchens and bakeries that take only two people and 45 minutes to go up and running to produce 750 loaves of bread and 500 meals every hour.
His tour included the stands of Darwish bin Ahmed and Sons Group, a national provider of civil and military cranes and transportation and shipping equipment, and Ahmed Al Mazrouei Innovation Centre, a provider and developer of four-wheel drive vehicles and personnel carriers.
He then learned about the specifications of Archangel, a long-range multi-purpose aircraft manufactured by IOMAX USA for maritime surveillance, command and control mission, border control and fire-fighting missions.
He visited the stands of Ukroboronprom (UOP), a Ukrainian conglomerate of more than 100 defence companies; UAE-based Trust International Group, a developer of technology security, upgrades of military equipment and weapon systems, spare parts.
H.H. Sheikh Mohamed then visited the stands of ISOTREX Manufacturing, which produces all-terrain armoured vehicles, the China Electronics Technology Group Corporation (CETC), Emirati technology solutions provider Atlas Communications, and Handasa, an Abu Dhabi-based provider of sustainable and renewable energy solutions.
H.H. Sheikh Mohamed bin Zayed also visited the Bosnian pavilion, and the Jordanian pavilion where he met Jordan's Prince Faisal Bin Al Hussein and learned about defence equipment manufactured by the KADDB Investment Group.
He also visited the stand of the US defence company Raytheon, a provider of defence, civil government and cybersecurity solutions, and the stand of DarkMatter, a UAE-based cyber security company, and Lockheed Martin, a US-based global aerospace, defence, security and advanced technologies company.
H.H. Sheikh Mohamed was accompanied during the tour by Mohammed Mubarak Al Mazrouei, Under-Secretary at the Court of Abu Dhabi Crown Prince; Lt. General Hamad Mohammed Thani Al Rumaithi, Chief of Staff of the Armed Forces; Major General Lt. General Juma Ahmed Al Bowardi Al Falasi, Adviser to Deputy Supreme Commander of the Armed Force; Staff Major General Pilot Faris Khalaf Khalfan Al Mazrouei, Chairman of Critical Infrastructure and Coastal Protection Authority and chairman of the Higher Organising Committee of IDEX 2017.
Follow Emirates 24|7 on Google News.