Abu Dhabi hit with 130kmph winds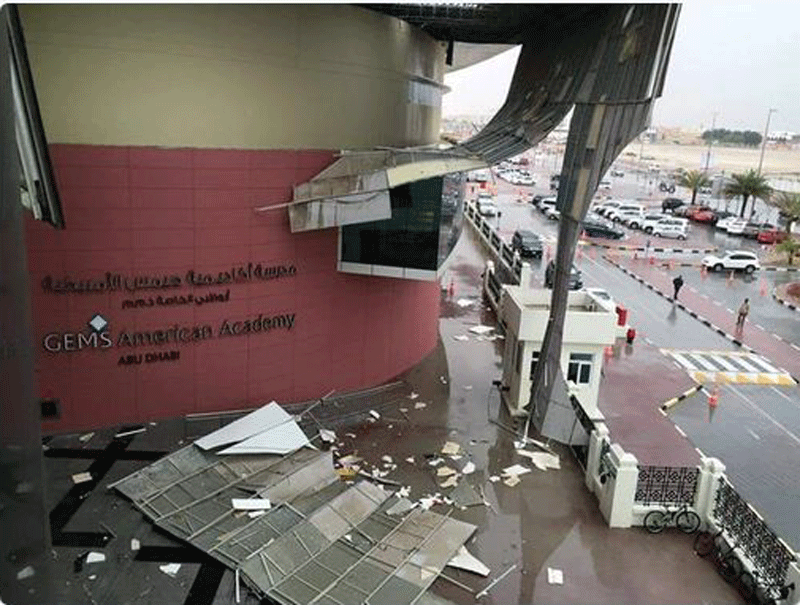 Personnel of Security Media Patrols removing trees from the Rd beware of surprises on Rd We wish safety for everyone pic.twitter.com/2aXayjANel

— MOIUAE (@moiuae) March 9, 2016
Abu Dhabi residents and those in the surrounding western region are being advised to drive safely and avoid unnecessary travel, as the capital faces storm-like conditions with the highest wind speed recording hitting highs of 130 kilometers per hour.
The UAE's National Centre for Meteorology and Seismology (NCMS) has confirmed the weather system has severely affected the capital city, including Al Ain.
Heavy rain and strong wind across Abu Dhabi Motorists are urged to drive cautiously and avoid road surprises pic.twitter.com/VdTIUsGl23

— MOIUAE (@moiuae) March 9, 2016
A spokesperson with the NCMS spoke to Emirates 24|7' saying: "At 11.30am, the wind speed at Al Bateen Airport was recorded at reaching highs of 130kph, with hail storms recorded in Ghantoot and Sameh."
NCMS, along with Abu Dhabi's Ministry of Interior (MoI), has stated the strong winds have caused severe damage to property in the capital, with trees uprooted, resulting in debris on the roads and hazardous driving conditions.
People on social media have also posted images of severe damage caused to properties across the capital.
Meanwhile, Abu Dhabi Airports has denied a video circulating on social media depicting a roof collapse has occurred at the airport in wake of the storm.
In a statement, the authority stated: "Abu Dhabi Airports can confirm that there has not been any ceiling damage at Abu Dhabi International Airport.
"A video circulating on social media shows a ceiling collapsing at Sky Park Plaza opposite Terminal 3 and not at Abu Dhabi International Airport.
Today rain in UAE abu dhabi airport pic.twitter.com/MN8dVAeFXw

— azeez (@azezula) March 9, 2016
"There were no injuries suffered and the ceiling is being repaired."
Severe waterlogging has also been recorded, with the NCMS confirming 110mm of rainfall was recorded in the eastern region of UAE on Wednesday.
Earlier, Abu Dhabi had suspended all flight operations, but tweeted at 1.45pm that flight operations had resumed.
In a statement, it said: "Abu Dhabi International Airport announces resuming flight operations as normal. Passengers are advised to contact their respective airlines for an update on their flight schedule prior to heading to the airport."
Meanwhile, the Abu Dhabi Education Council announced the closure of all schools across the emirate for Wednesday, later tweeting that they will also remained closed tomorrow.
In a tweet, ADEC stated: "In order to ensure the safety of students, we have decided to suspend the attendance of students and educational administrative bodies on Thursday March 10 due to weather conditions."
Follow Emirates 24|7 on Google News.