Abu Dhabi Police launch fog awareness campaign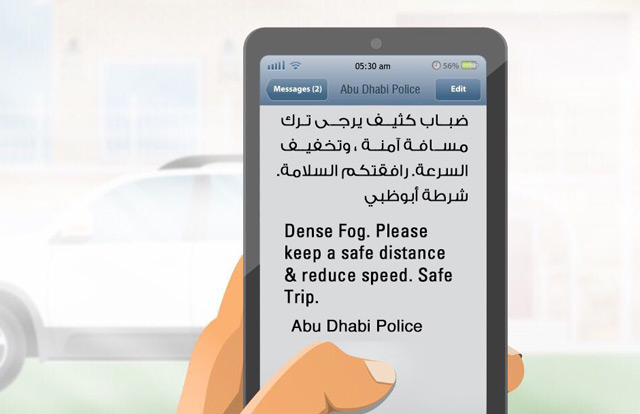 The Abu Dhabi Police, ADP, today launched an awareness campaign for drivers and road users, which aims to promote safe driving in foggy weather.
The campaign, which is part of the efforts of the "Joint Traffic Safety Committee" of Abu Dhabi, in coordination with the Transport Department, is being implemented by the Traffic and Patrols Directorate of the Central Operations Sector and the Security Media Administration of the Command Affairs Sector.
Brigadier Khalifa Mohammed Al Khaili, Director of the Traffic and Patrols Directorate, highlighted the importance of safe driving and reducing mistakes while driving in a fog, as it could avert accidents, as well as serious injuries and deaths.
He also stressed that preventive measures taken during times of fog include broadcasting warning messages on the national early notification system and traffic instructions on smart towers, as well as warning drivers about accidents.
These measures can also include banning trucks and worker transportation buses with a "14-24-60" passenger capacity from driving during fog, he added while noting that preventive awareness messages will be posted on the ADP's social media platforms on Facebook, Twitter and Instagram in Arabic, English and Urdu.
Al Khaili urged drivers to stop driving in low visibility and leave a safe distance between vehicles to avoid accidents while correcting the misconceptions about the use of warning lights while driving, as they should be used to warn other vehicles when their cars are stationary.
He also stressed the importance for transport companies that use trucks and buses to transport workers to commit to the "14-24-60" passenger capacity regulation while driving in fog, as well as the implementation of Article No.10 from the amended regulation of Traffic Law No. 178, which imposes a AED1,000 fine and four traffic points on heavy vehicles driving in prohibited areas.
Follow Emirates 24|7 on Google News.