Abu Dhabi Police showcases dogs with advanced cameras mounted on them at Idex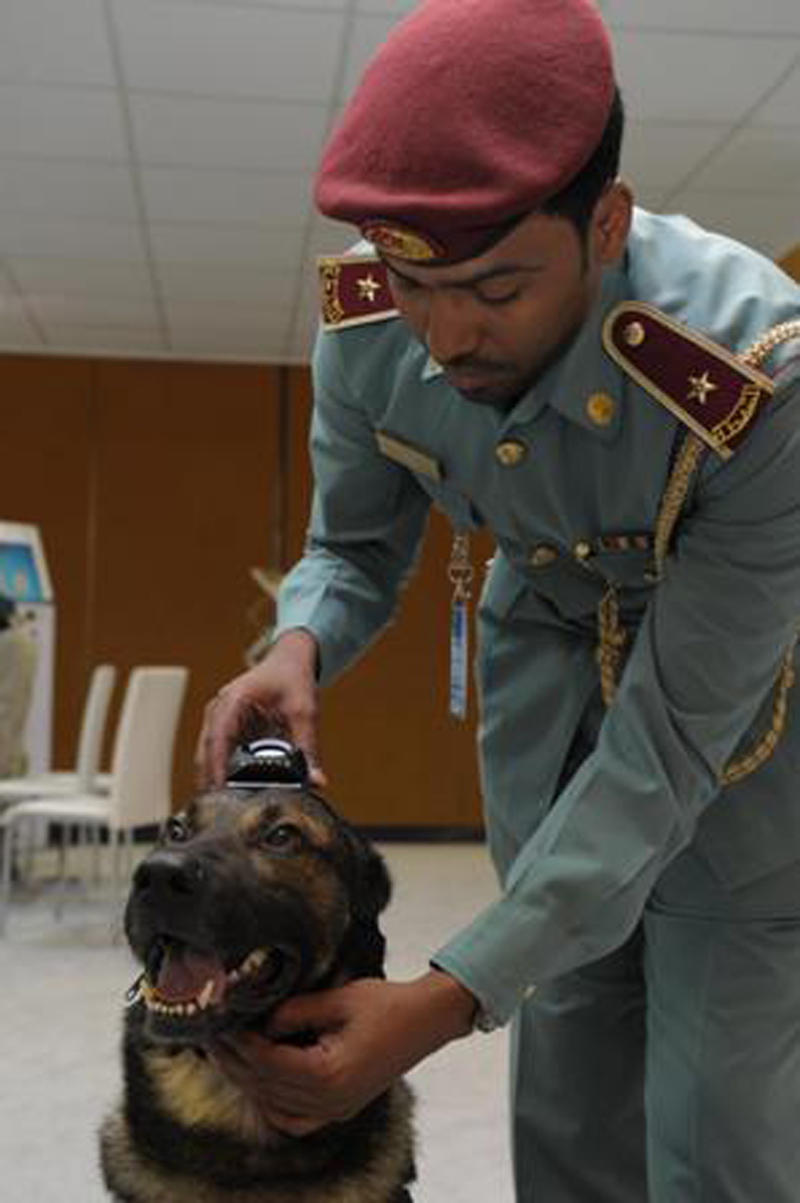 The Abu Dhabi Police Security Inspection Department (K9) showcased police dogs with the latest state-of-the-art search and rescue equipment including mounted cameras at the Ministry of Interior's stand in the International Defense Exhibition and Conference 2013 (Idex 2013).
The dogs are trained to search for survivors and missing people under rubble or those trapped in hard-to-reach areas.
Lt. Hamad Mubarak Al Azizi, Manager of the Office of Security Inspection Department in the Directorate General of Security and Ports Affairs of Abu Dhabi Police, said that the cameras mounted on those dogs have incredible technologies that assist search and rescue teams in locating survivors, missing individuals, or corpses that are buried under rubble by transmitting high resolution images from the camera directly to the dog trainer's screen.
He added: "The camera is mounted and fastened with a belt on the dog's head; it is equipped with sensors for noises, visuals, and lighting, and is capable of transmitting images to a distance of 20 meters for simple ranges and dark and narrow places. After the images are received on the screen, specialized entities are contacted to remove the rubble and rescue survivors, or remove corpses from the scene."
Al Azizi mentioned that these types of cameras are dedicated to search and rescue dogs only, affirming that Abu Dhabi Police has used these technologies in several natural disasters in many countries including Pakistan, Afghanistan, and Indonesia. He noted that these technologies with search and rescue dog teams were launched five years ago, and the actual use of them started three years ago.
Speaking on the types of police dogs used in search and rescue teams, Al Azizi said that German Shepherds, Malinois, Labradors, and Golden Retrievers are the most successful and capable dogs in this field.
He said that the period of training police dogs does not exceed three months for simple tasks depending on the level of the dog's intelligence, and its sniffing capabilities, which is enhanced during the training.
Responding to a question about the dogs' lifespan and whether this applies to police dogs, Al Azizi said that these types of dogs have an estimated life of 11-14 years and might exceed that timeframe; the years the dog spends in service depends on its health, physical fitness, and its ability to perform.
Speaking about daily meals provided to dogs of this size and their physical energy, he said that police dogs eat one meal a day consisting of meat and special biscuits, noting that the dogs undergo daily training programmes as per their specializations so that they can maintain their abilities, skills, and fitness.
Follow Emirates 24|7 on Google News.