Abu Dhabi's landmarks bathed in green lights in support of UAE-Saudi Strategic Partnership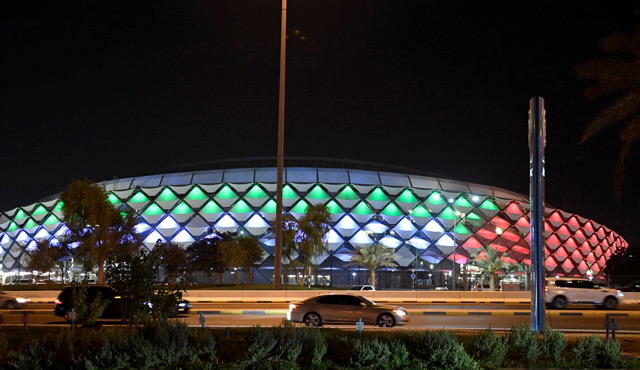 Key landmarks in the UAE capital were bathed in green lights and colour in support of the maiden meeting of the Saudi-Emirati Coordination Council held in Jeddah yesterday.
The Sheikh Zayed Bridge was dressed in green while ADNOC Headquarters is carrying the two sisterly countries' flags embedded with illuminating images of the President His Highness Sheikh Khalifa bin Zayed Al Nahyan and King Salman bin Abdulaziz Al Saud of Saudi Arabia in the middle along with photos of His Highness Sheikh Mohamed bin Zayed Al Nahyan, Crown Prince of Abu Dhabi and Deputy Supreme Commander of the UAE Armed Forces and Saudi Crown Prince Mohammed bin Salman. The buildings of International Petroleum Investment Company, Marina Mall and Hazza bin Zayed Stadium in Al Ain were dressed in the same fashion.
UAE and Saudi Arabia yesterday outlined a unified vision aimed at boosting the two nations' global stature by announcing 44 strategic projects during the first meeting THE Saudi-Emirati Coordination Council which was chaired by H.H. Mohamed bin Zayed and Saudi Crown Prince Mohammed bin Salman, during which the structure of the coordination council was announced with the aim of boosting joint collaboration on the implementation of projects and create an Arab model of cooperation.
The "Ala'azm (Determination) Strategy" was discussed by 350 officials from both countries involving 139 governmental, sovereign and military bodies over 12 months. The strategy focuses on three main pillars: economy; human and knowledge; and politics, security and military.
The strategic partnership seeks to move the two allies closer on economic and security grounds as well as developing a better living standard for citizens.
The council seeks to develop a joint vision to deepen bilateral relations in line with the objectives set by the Gulf Cooperation Council to strengthen economic integration between the two sides and develop innovative solutions for optimum use of resources while building an efficient and integrated education system based on creating a qualified workforce.
Follow Emirates 24|7 on Google News.