ADM hands over Abu Dhabi Master Development Plan to National Archives for documenting, archiving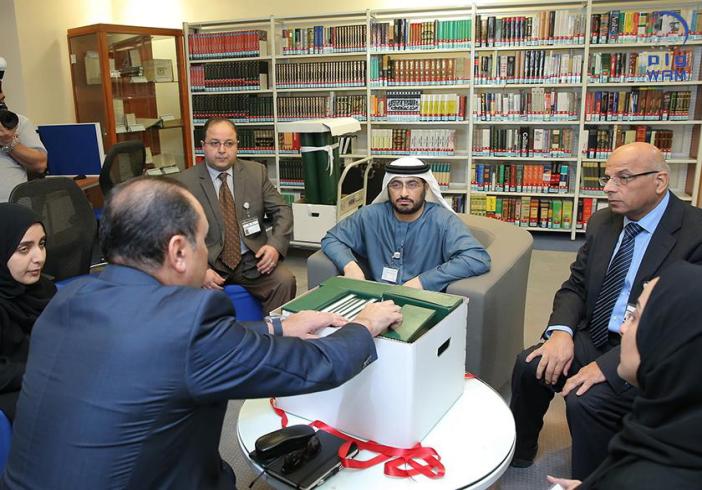 The Abu Dhabi Municipality has handed the National Archives of the Ministry of Presidential Affairs, a copy of Abu Dhabi Master Development Plan, during a visit by a delegation of the Municipality to the National Archives.
The purpose of handing such documents was to preserve documents and volumes of the development plan.
The step was taken in the context of the constructive coordination between the two parties where the National Archives had paid a visit to the Municipality during which it reviewed the ingredients of Abu Dhabi Master Development Plan as part of benchmarking visits encouraged by the Department of Municipal Affairs and Transport – Abu Dhabi City Municipality.
The two parties stressed the importance of boosting their bilateral cooperation and benefiting from successful practices in supporting the development deliverables in Abu Dhabi city. They also explored the utilisation of key initiatives in upgrading the level of services to live up to the needs of sustainable development.
The Municipality handed to the library of National Archives several volumes of Abu Dhabi Master Development Plan for documenting and preserving them as historical reference information. Materials handed to the National Archives comprised volumes and maps of regional development plans, master directional plans of Abu Dhabi City and suburban areas supported by current maps. They also included directional master plans of rural residential communities, islands and maritime areas along with the implementation plan.
The National Archives briefed the Municipality's delegation on the components of the National Archives building, photo gallery and important historical documents preserving the history of our precious nation.
Follow Emirates 24|7 on Google News.