ADP celebrates World Humanitarian Day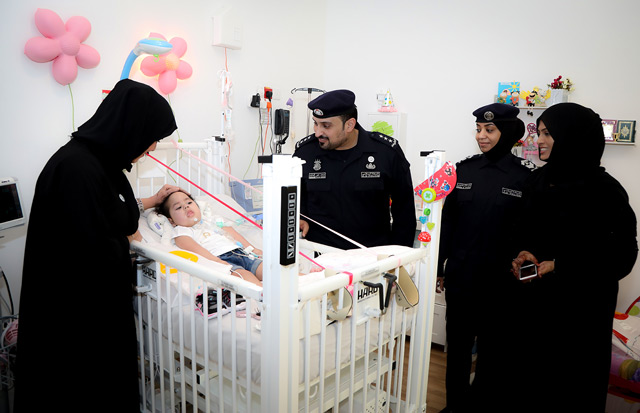 The Abu Dhabi Police, ADP, celebrated World Humanitarian Day by holding various programmes and activities for patients and their families, as well as for the medical and administrative staff of the Amana Health Care Hospital in Khalifa City, Abu Dhabi.
The event, which was organised by the ADP with the participation of the happiness ambassadors of the ADP's Security and Ports Affairs Sector, included the distribution of gifts to patients and people of determination, especially children, at the hospital, as well as to its employees, to strengthen the values of giving and tolerance. This was in recognition of the role of the late Sheikh Zayed bin Sultan Al Nahyan in starting the journey of the UAE's humanitarian giving, coinciding with the Year of Zayed.
Major General Sheikh Mohammed bin Tahnoun Al Nahyan, Director of the Security and Ports Affairs Sector, highlighted the ADP's participation in International Humanitarian Work Day and the importance of focussing on humanitarian values and its impact on the success of communities, in line with the social values and principles of Sheikh Zayed, which are ingrained in the community and inherited by all Emirati generations.
Brigadier Salem Hamoud Al Baloushi, Director of the Weapons and Explosive Administration of the Security and Ports Affairs Sector, said that the International Humanitarian Work Day represents the value of giving and noted that it coincides with the Year of Zayed 2018 while adding that the ADP is keen to organise the event, to make patients and their families happy, as well as the hospital's employees.
The patients and their families expressed their appreciation for the ADP's initiative, which reflects the foundations on which the UAE was established and its approach based on unity, in line with the achievements of Sheikh Zayed and his humanitarian values.
Follow Emirates 24|7 on Google News.