ADP officer climbs Mount Kilimanjaro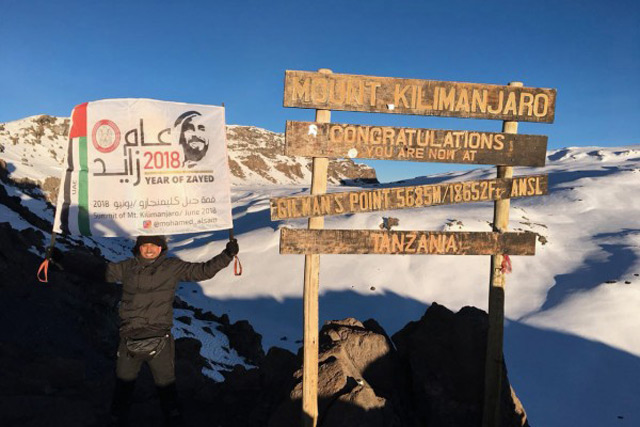 An officer from the Abu Dhabi Police, ADP, has made history by climbing Mount Kilimanjaro, Africa's highest mountain, in Tanzania, and raised the photo of the founding father, the late Sheikh Zayed bin Sultan Al Nahyan, and the logo of the Year of Zayed 2018 at the summit.
The mountain is about 4,900 metres (16,100 ft) from its base and 5,895 metres (19,341 ft) above sea level.
Lt. Colonel Mohammed Al Naqbi of the ADP's Criminal Security Sector, who reached the summit of the world's fifth-highest mountain in just one week and is a passionate adventurer and nature lover, said that his dream is to climb the seven highest summits in the world.
He thanked the ADP for its support and motivation, which enabled him to achieve excellence and leadership, both locally and globally.
The mountain is part of the Kilimanjaro National Park and is a major international climbing destination.
Speaking about how he started this challenging sport, Al Naqbi said that he began mountaineering ten years ago in the northern emirates, which is characterised by its mountainous environment.
A team of support climbers of various nationalities boosted morale and provided psychological support, he stated while stressing that they enabled him to promote the UAE's heritage and interact with other cultures.
''Mountaineering, which has become, over recent years, a lifestyle in various parts of the world, is an opportunity to share challenges and experiences,'' he added.
The sport gave him the patience, forbearance, endurance and strength to face life's challenges and make decisions, he said in conclusion.
Follow Emirates 24|7 on Google News.