Afghan delegation offers condolences to martyrs' families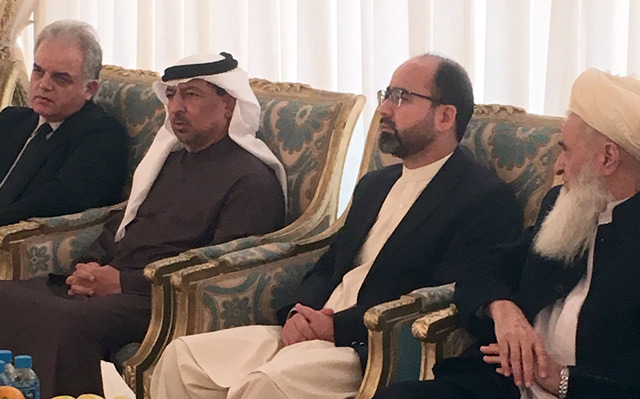 Faiz Mohammad Osmani Minister of Hajj and Religious Affairs and Envoy of the Afghan President, has offered his condolences on the UAE's martyrs, who were killed in the Kandahar terrorist attack, while on a humanitarian mission.
The Afghan delegation included members of parliament, the National Security Council representative, Reconciliation Council representative, Abdul Farid Zikria, Afghanistan's Ambassador to the UAE, and several eminent Afghani citizens in the State.
While visiting the mourning majlises of Mohammed Ali Zainal Al Bastaki, Abdullah Mohammed Eisa Obaid Al Kaabi, Ahmed Rashid Salem Ali Al Mazrouei, Ahmed Abdul Rahman Ahmed Kluaib Al Tunaiji, and Abdul Hamid Sultan Ibrahim Al Hammadi, the Afghan President's envoy strongly condemned the attack that led to the death of the UAE officials who were on a humanitarian mission. He prayed to Allah to rest them in peace.
He wished a speedy recovery to the UAE Ambassador to Afghanistan, Juma Mohammed Abdullah Al Kaabi, and the others injured in the attack.
Abdullah Ali Musleh Al Ahbabi, Chairman of Abu Dhabi Water and Electricity Authority (ADWEA), Dr. Saif Saleh Al Sayari, Acting General Manager of ADWEA, Ahmed Saleh Al Neyadi, Head of ADWEA, also conveyed their condolences to the families of the martyrs.
Dr. Jamal Sanad Al Suwaidi, Director-General of the Emirates Centre for Strategic Studies and Research, Dr. Abdullah Al Rayes, Head of the National Archives, and several Arab and foreign ambassadors also offered their condolences.
Follow Emirates 24|7 on Google News.