After super cars, Dubai Police launches eco-friendly mini car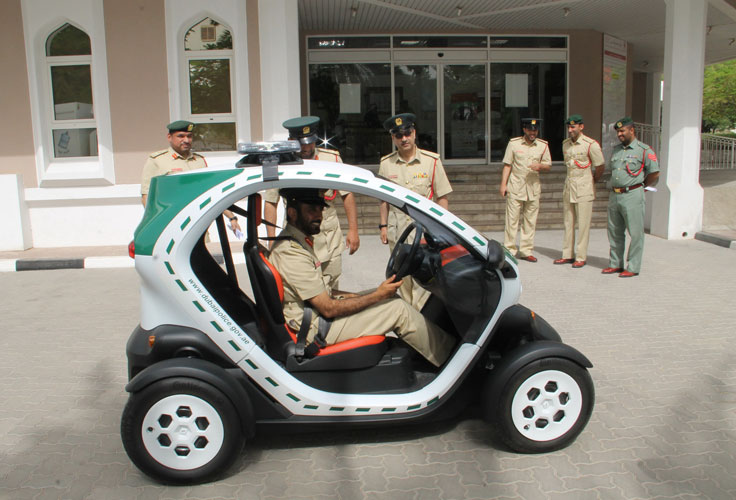 After introducing super cars on the roads, Dubai Police have added an eco-friendly electric mini car.
The one-seater will be deployed on the busy Deira streets.
Maj Gen Mohammed Saif Al Zafeen, Director-General, Traffic Police, who tested the vehicle said, "The four-wheeled car will be used in pursuing traffic violators in the narrow streets of the city."
The introduction of the electric car is in line with the strategy of the General Command of Dubai Police to use latest technology and advanced vehicles in providing the best patrol routine, Gen Zafeen said and added that it will also help maintain security and quick service to visitors and residents alike.
The car would be on patrol on the busy streets of Naif area which is a popular destination of thousands of traders.
Gen Zafeen said apart from patrolling the streets, the car would also be used as a tourist attraction in heritage areas.
Police plans to use just one car for a trial period and check what modifications need to be done before going into the next phase.
The car was tested in the presence of Brigadier Pilot Anas Abdul Rahman Al Matroushi,Deputy Director of the General Department for Transport and Rescue at the General Directorate of Operation; Brig Tayar Anas Abdul Rahman Al Matroushi, Assistant Director-General, Traffic, Bur Dubai Police; Lt Col Walid Ali Al Manae, among others.
ALSO READ:
Video: Dubai Police's super cars on patrol
Vintage beauties rev up the memories in little UK town
Follow Emirates 24|7 on Google News.