Ajman Crown Prince launches new Civil Defence headquarters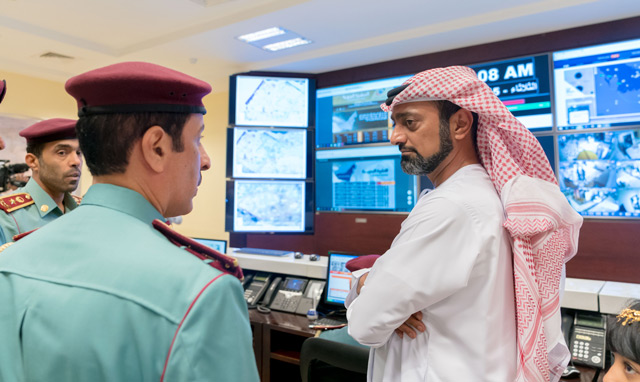 H.H. Sheikh Ammar bin Humaid Al Nuaimi, Crown Prince of Ajman and Chairman of the Ajman Executive Council, has launched, with the attendance of Sheikh Rashid bin Humaid Al Nuaimi, Chairman of the Ajman Municipality and Planning Department, the new headquarters of the Civil Defence in Al Jurf 2, at a cost of AED40 million.
The centre is characterised by its modern architecture and sustainability standards.
The building contains administrative offices, a customer service centre, a multi-purpose hall, a firefighting centre, and officers and public residences.
The new building aims to offer the best modern security services to the emirate and will aid and assist other civil defence departments around the country.
Sheikh Ammar said that caring for civil safety, providing security and safety services and protecting private property are being prioritised by the Ministry of Interior, which aims to establish civil defence centres around the country, especially in Ajman, with the aim of improving security and safety and providing civil defence services, to protect residents and ensure the safety of establishments and public facilities.
Sheikh Ammar stressed that the UAE's leadership aims to support and develop the country's civil defence services and make them available to the entire community around the country, to meet their requirements and provide excellent services that comply with comprehensive quality standards, in line with the goals of ministry's relevant strategic plan.
He added that the Ajman Government has boosted its efforts to support the security services in the emirate, to maintain security and stability and provide a dignified and safe life for nationals and residents, through assisting this vital sector and listening to solutions and suggestions offered by security authorities, which aim to improve security and safety and enhance local safety measures.
Sheikh Ammar praised the ministry's key role and its efforts to provide modern headquarters and equipment to keep pace with urban developments, as well as services and national manpower through its centres. He thanked H.H. Lt. General Sheikh Saif bin Zayed Al Nahyan, Deputy Prime Minister and Minister of Interior, and his team for helping to preserve lives and possessions and maintain security and stability.
Follow Emirates 24|7 on Google News.