Ajman Crown Prince receives delegation from Henan Province, China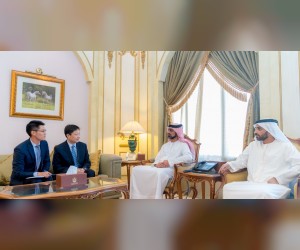 H.H. Sheikh Ammar bin Humaid Al Nuaimi, Crown Prince of Ajman and President of the Executive Council, today received a senior Chinese delegation that included investors, people in business and economists from Henan Province, led by Yu Chu, Deputy Director-General of the Province's Economic Department.
At the start of the meeting, Sheikh Ammar welcomed Yu and the Chinese delegation while expressing his hope that Ajman can benefit from China's expertise in trade, investment, industry and the economy.
The meeting discussed ways of promoting bilateral co-operation between both sides in the areas of investment, trade, industry and development, as well as future ideas and propositions and the establishment of joint projects between Emirati and Chinese businessmen in Ajman, in light of the emirate's exceptional business environment.
Sheikh Ammar stressed that both the UAE and Ajman have managed to attract overall investment and provided opportunities for potential investments, serving the country's future vision to develop its economy, establish major industrial projects and attract investors.
He urged the Chinese delegation to expand their investments in Ajman by implementing new investment and trade projects, especially in information technology and clean and renewable energy, as well as to benefit from the facilitation and incentives provided by the emirate's public and private authorities, departments and institutions, and participate in exhibitions held in the UAE and Ajman.
The participants also talked about the second phase of enlarging the Chinese market in Ajman, which involve introducing new investment companies and showcasing new Chinese products that are not currently available.
Sheikh Ammar then presented the goals and projects of the Ajman Free Zone and was briefed by the delegation about the goals of the visit and their willingness to explore investment opportunities in a variety of local sectors.
Yu expressed the hope that the Free Zone Authority in Ajman would open a representative office in Henan Province, to target the best industrial and trade companies that could invest in the emirate while stressing that they would support this office.
Follow Emirates 24|7 on Google News.