Ajman Police rescues residents, workers from waterlogged valley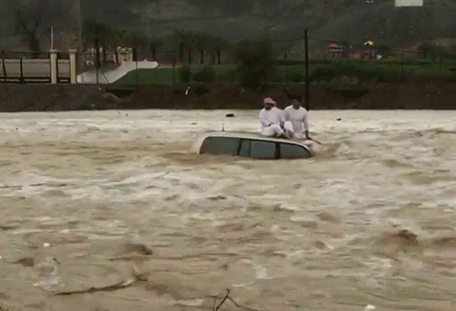 Ajman Police rescued two UAE nationals and 11 Asian workers yesterday following reports of waterlogging.
Brigadier Sheikh Sultan bin Abdullah Al Nuaimi, Chief of Ajman Police, said the police made tremendous efforts in the Masfout Valley area in the emirate yesterday after the area witnessed torrential rainfall.
The police also rescued 16 passengers stuck in their waterlogged vehicles.
The bad weather was accompanied by strong winds and heavy rain, which led to the Masfout Valley being logged with water that saw the car of two Emiratis being swept away.
Timely intervention by Ajman Police helped save the two nationals.
In addition, Brigadier Al Nuaimi said the police, with the help of local residents, managed to rescue 11 workers.
The police were also able to pull to safety 16 other people stranded in their water-stuck vehicles.
The Ajman Police Chief appealed to all citizens and residents to take precautions while driving in the valley during this period, and abide by the rules for their own safety.
Follow Emirates 24|7 on Google News.