Akshay, Anushka reel in Dubai fans for premiere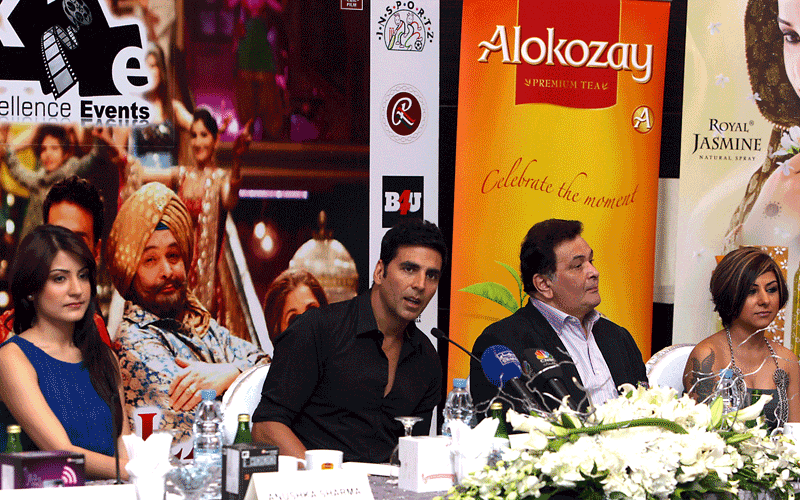 Another red carpet premiere concluded last night, this time with Bollywood's Akshay Kumar, along with Rishi Kapoor, Anushka Sharma and British Asian singer Hard Kaur strutting down the corridors of Grand Cinemas, Wafi City, which is now becoming Dubai's very own walk of fame to rival that in Hollywood.
Speaking to the stars earlier in the day, both Kumar and Kapoor wouldn't stop gushing about the emirate and their reason behind holding the film premiere here, as opposed to one in London where the film is based.
Said Kumar: "Dubai is a comfort zone for us. I alone have shot six to seven films here and all became super hits, so I guess there's that good luck charm involved too.
"We spoke to the producer and director and zeroed in on Dubai, so here we are."
Kapoor added: "What works really well is the proximity to Mumbai, which is a 2.5 hour flight, allowing us to continue on with our schedules effectively; I mean look at Akshay and Anushka, who have to catch an early morning flight to Delhi, then travel to Chandigarh and Patiala for the film's India premiere. It couldn't have been possible in London."
Kapoor added that the large Asian population here, especially from Pakistan, Bangladesh and India also works in the film's favour as these are cricket-crazy nations, which are hosting the ICC World Cup 2011 next week, which is sure to draw in crowds.

For the love of a game
"Patiala House" sees Kumar play the protagonist Gattu, who's dreams to play cricket on a national level are shattered when his father (Kapoor) forbids him to play for England, the country they live in, due to past racial prejudices. Sharma plays Kumar's love interest in the film.
"I wouldn't call this a cricket centric movie, but rather a film about a father-son relationship with the sport being a catalyst in their differing views," explained Kumar. "Of course, due to its subject and the timing of the film's release, it is also bound to appeal to cricket fans that are eagerly awaiting the world cup."
The actor also plays the reel-son to his real life mother-in-law, Dimple Kapadia, in "Patiala House". Quiz him about their work equation and Kumar hesitates before saying: "On the first day of shoot, it felt odd. I can't explain it, but it was just that, odd for 10 to 15 minutes, but then I realised this is family so I just simply slipped in comfortably into a son's role."
Kapoor picked up, saying: "What Akshay is leaving out is that she would get him home cooked meals everyday and I would steal what I could."
While the two veteran stars clearly shared a comfortable rapport with one another, did Sharma feel intimidated or left out during the shoot?
Ask her and the three-film old actress doesn't deny, saying: "I don't think it was Akshay who intimidated me, but with Rishi sir, yes, I was tongue-tied when I met him the first few times."
She quickly added to a surprised Kapoor: "It wasn't that he said or made me feel uncomfortable, but rather that he's such a veteran actor that I wasn't sure how I could approach him or connect with him. But once we chatted, it all fell into place."
So what was the equation with Kumar, one wonders?
Said Sharma: "It's Akshay Kumar. He's so good looking. I just stared at him the first time we met. And wouldn't stop for ages. He's so tall and charming."
A blushing Kumar added nothing to the statement but rather said: "I hope people do enjoy this film… I have been lucky in this industry for so many years, and I hope my luck doesn't run out."
Kumar denies that this would ever be the case, but he doesn't also refute Bollywood is a fickle industry, adding: "I started my career with what you term as B-Grade films and I have worked very hard to be where I am today. I am God's child and I know if I continue with the faith, I won't be disappointed."
Follow Emirates 24|7 on Google News.