Al Bayan bags six media awards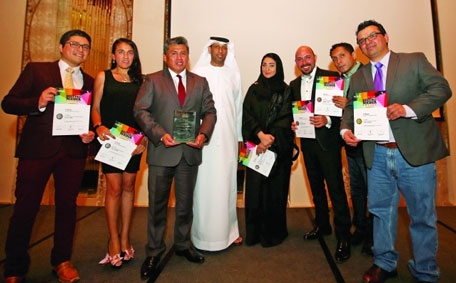 Arabic-language daily, Al Bayan Newspaper, won six awards from the World Association of newspapers and news publishers (WAN-IFRA) yesterday.
The awards were granted for the Best Performance of Digital Media in the Middle East, coinciding with its annual conference in Dubai, Al Bayan reported.
The newspaper bagged one gold, three silver and two bronze awards.
The gold award was for Best Use of Online Video Clip; one of the silver awards was for Best Publisher on Tablet PC.
Al Bayan also bagged silver for Best Entertainment Site and Best Site Design Data on a subject relating to statistics on domestic production of fish in Dubai.
The bronze awards were for Best Design Project Data and Best New Project of series Alpha Team.
Ahmed Al Hammadi, CEO for Commercial & Marketing Affairs at Dubai Media Incorporated (DMI), which is the parent company of Al Bayan, pointed out receiving such distinguished awards embodies the excellent approach and creativity for its newspaper.
He said this contributed to the pioneering role of Al Bayan's consolidation within the media sector active in the UAE and the region.
Al Hammadi stressed that winning six awards, despite the stiff competition of participants from around the Middle East, represents an indicator of qualitative development achieved by Al Bayan in the past few years.
He added: "We look forward to building on these achievements to increase the readers' base of Al Bayan newspaper."
He further emphasised that Al Bayan is very keen to adopt better technical applications to upgrade its readers' experience, either through paper or through electronic newspaper.
He confirmed that the innovation and creativity are a strategic approach in the work of the publishing sector in DMI.
These awards enable the holders to qualify to a phase of global competition, with winners of the same categories in Europe and Latin America.
Follow Emirates 24|7 on Google News.