Alert on robbers posing as technicians in Dubai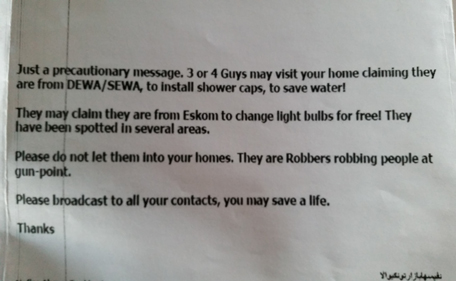 A message warning of potential robbers under the disguise of Dewa staff has re-appeared in the public domain, report tenants in at least one area in Dubai.

In a couple of buildings in Tecom, the following notice was put up in the lobby: "Just a precautionary message; 3 or 4 guys may visit your home claiming they are from Dewa/Sewa to install shower caps to save water! They may claim they are from Eskom to change light bulbs for free! They have been spotted in several areas. Please do not let them into your homes. They are robbers robbing people at gun-point. Please broadcast to all your contacts, you may save a life."

Although the note is ostensibly signed off by a representative of the Dubai Electricity and Water Authority (Dewa), the authority claims the message is a fake one.

"This rumour is not true, and Dewa is not responsible for this message," it said when asked about the appearance of the particular message.

Indeed, security at one of the buildings in Tecom confirmed that the message was spread by tenants, and the note had been put up as a precautionary measure.

"Some tenants informed us that this had happened to some of their friends in other areas, such as Karama. In order to warn people of this practice, we decided to put up the warning note.

"Nothing has happened in this building so far and we do not want to scare people. We just want to tell residents to be careful when opening the door for strangers," the security guard added.

"I do appreciate the notice, because I sometimes leave my door unlocked. This just reminds me that there could be bad people out there taking advantage of trusting residents," said a resident in the building who preferred to remain anonymous.

"It does freak me out a little bit. I am often home alone in the evening, and I would not be able to defend myself if something like this really happened. I guess I will not open the door to stranger at all anymore," said another resident.

Speaking to 'Emirates24|7', Khalil Ibrahim Al Mansouri, Director-General of Dubai Police Criminal Investigation Department advised residents not to allow any stranger from entering their residence.

"We did not receive any official complaints in this regard. However, as a precautionary measure, it is advised not to allow any stranger to enter your residence, especially DVDs sellers or those offering massages at your door step.

"We also advice people to make sure of the identity of all public and private company staff before allowing them into you residence," he added.

However, Al Mansouri pointed out that in the past few months Dubai Police had not come across any such case.

In 2013, the same message appeared on social media websites, reading exactly the same words. Dewa responded in a similar manner at the time, stating that this was a scam message to create panic. They advised people not to look into it.
Follow Emirates 24|7 on Google News.