All-women rescue teams soon for Dubai's beaches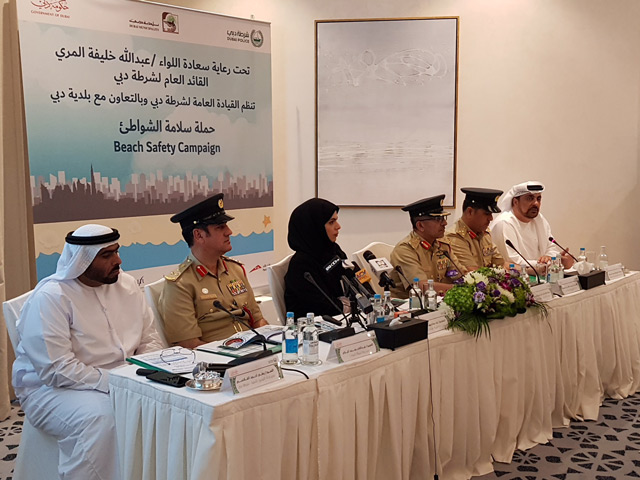 All-women rescue teams will soon be introduced on Dubai's beaches, it was announced on Thursday.
Currently, 12 women are being trained to respond to emergencies, with the police planning to increase the number to 18 by the end of the year.
This was disclosed at a press conference of the Dubai Police, where a "Beach Safety Campaign" was launched to raise awareness among beachgoers, especially highlighting drowning as one of its main concerns.
The two-month-long campaign is launched in collaboration with Dubai Municipality and other strategic partners.
Speaking at the press conference, Major-General Ahmed bin Thani, Assistant Commander-in-Chief of Ports Affairs, said there has been a major decline in drowning deaths and related injuries so far this year with nine incidents recorded as compared to 28 incidents in the same period in 2017 and 35 in 2016.
"We are keen to provide safe beaches for people away from drowning incidents and other troubles. This campaign will help educate beachgoers about what to do when they go to the beaches and not to swim when there are high waves or bad weather," Maj-Gen. Bin Thani said.
Of all incidents, Brigadier Abdulqader Al Bannai, Director of Ports police station, noted that six people died and three others were injured so far this year compared to 14 deaths and injuries to four others in the same period in 2017 and 29 deaths and injuries to six persons in 2016.
Brig. Al Bannai urged beachgoers to be extra cautious and refrain from swimming after sunset when no lifeguards are on duty.
Speaking on the efforts of the Dubai Municipality, Alia Abdul Rahim Al Harmoudi, Director of the Environment Department at the municipality, stated that the municipality has created a special system that covers seven public beaches in three areas, including Al Mamzar, Jumeirah, and Umm Suqeim.
"We have 100 professional lifeguards who are deployed on Dubai's seven beaches. They operate from about 30 rescue stations with the latest first-aid equipment. When you see a red flag, they know it is dangerous to swim in the area," Al Harmoudi said.
She urged people to check the status of the waves by visiting Dubai Coast's website, which shows the status of sea and waves.
During the awareness campaign, police patrols will explain safety measures to beachgoers and police will also use social media platforms to tell the public about the safety measures to be followed while swimming at the open beaches.
Swimmers are also advised not to swim close to the rocks or outside the safe zone. At most of the open beaches in Dubai, areas for swimming have been marked through floating buoys and ropes. Swimming past these limits can invite trouble.
Brigadier Ahmad Thani Bin Ghalita, Director of Al Rafaa police station and Head of Dubai Police Stations Directors' Council, hoped to reach the goal of zero accidents during this summer and as the campaign targets audiences, including tourists and residents, tourism companies and the hotel industry in Dubai should include awareness of their priorities and support the delivery of the campaign mission for an ideal summer.
He further said the campaign covers other unacceptable behaviours such as theft and harassment of beach visitors.
Meanwhile, the Executive Director of the Dubai Corporation for Ambulance Services, Khalifa bin Drai, announced that they will have a sea ambulance at eight beaches by the end of this year to respond to medical emergencies.
Follow Emirates 24|7 on Google News.