American offers Dh6m for Ferrari in Dubai Police pound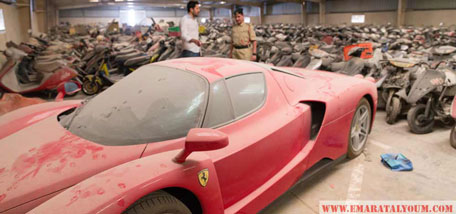 An unknown American has offered Dh6 million to buy a rare Enzo Ferrari that has been in police custody in Dubai for nearly six years.
But the offer was rejected as the vehicle is wanted by the Interpol, Dubai's traffic police chief has said.

Colonel Saif Al Mazroui described the car as a 'masterpiece' and said it has attracted the attention of many people seeking to acquire the expensive cars.

He told the Arabic language daily Emarat Al Youm that the vehicle is wanted by the Interpol and has also been the subject of a legal dispute in the emirate.

"An American has offered to buy the car for Dh6 million, but we cannot release the vehicle for sale or auction because it is still under dispute," he said.

"This car is a real masterpiece as only just over 300 having been produced by the company. Several people have offered to buy it, while others have queried about it."
In a report last week, Emarat Al Youm said the car trades at nearly $3 million (Dh11 million) and that it is a limited edition vehicle made on demand.
"The car has been there for more than six years. Dubai Police have moved it to another location to protect it following a report by the paper," it said.
The Ferrari is a 12-cylinder mid-engine supercar named after the company's founder, Enzo Ferrari.
It was designed by Ken Okuyama, a famous Japanese designer, and initially announced at the 2002 Paris Motor Show with a limited production run of 349.
The company sent invitations to existing customers, specifically those who had previously bought the F40 and F50.
All 349 cars were sold before production even began. Later, after numerous requests, Ferrari decided to build 50 more Enzos, bringing the total to 399.
Follow Emirates 24|7 on Google News.